• Extensive range of sustainable polystyrene, ABS and specialty styrenics
• Performance up. Footprint down.
• INEOS Styrolution: We care. We aim higher. We make it happen.

INEOS Styrolution's presence at K 2022 signals the start of a new sustainable era for styrenics. The company will present an extensive range of sustainable polystyrene, ABS and specialty styrenics solutions only three years after it introduced the first commercially available recycling solution at the K in 2019.




As part of the INEOS Group, INEOS Styrolution has committed to achieving net zero emissions by 2050. In order to stay on track, the company has put a stake in the ground and is expected to reduce its carbon footprint reduction by 45% by 2030.
In addition, the company pledges to bring half a million tonnes of INEOS Styrolution ECO products to market in 2030.
INEOS Styrolution's sustainable ECO solutions currently embrace two types of materials:
Products comprising mechanically recycled post-consumer waste with mechanical properties matching the performance of their respective fossil-based materials – including recycled solutions available with a food contact statement supplied by INEOS Styrolution – , and
ISCC PLUS certified products comprising renewable content.
Today's ECO portfolio from INEOS Styrolution includes
Styrolution® PS ECO solutions
Standard ABS Terluran® ECO
Specialty ABS Novodur® ECO and NOVODUR® ECO High Heat
Styrolux® ECO and Styroflex® ECO (both SBC)
Luran® ECO (SAN) and NAS® ECO (SMMA)
Luran® S ECO (ASA)
In parallel, the company is also investing in advanced recycling solutions such as depolymerisation and pyrolysis in parallel to minimise the consumption of fossil-based feedstock and to include a broad range of waste input on commercial scale.

Booth at the K and virtual booth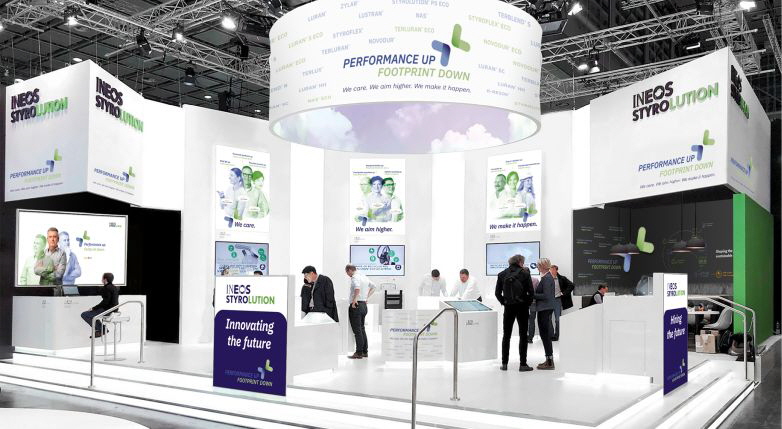 INEOS Styrolution welcomes visitors at the K in Düsseldorf at its booth D28 in hall 6. They can also pay a visit to INEOS Styrolution's virtual booth at https://k2022.ineos-styrolution.com.


INEOS Styrolution's styrenics in action at the K
Visitors of the K show are also invited to visit the following booths, where solutions made using INEOS Styrolution's products are presented.
Barnes Molding Solutions will demonstrate the integration of digital watermarks in complex injection moulded packaging products at their booth in hall 1 at the K 2022 in Düsseldorf. The demonstration will be based on INEOS Styrolution's sustainable NAS® ECO polymers offering a 77% to 99% carbon footprint reduction.
Barnes Molding Solutions will demonstrate digital watermarking on an injection-molded cap. The technology, also known as the HolyGrail initiative, intends to make sorting of plastics as a primary step for plastics recycling more accurate by using specialised high-speed cameras that read the watermark like a code during the sorting process.

Barnes will base its demonstration on INEOS Styrolution's NAS ECO polymer. The sustainable drop-in solution NAS ECO is based on a mass balance process certified by ISCC PLUS. It offers an up to 99% carbon footprint reduction compared to the respective fossil-based products. The actual grade used in the demonstration will be NAS ECO 30 B70.

Haitian, the global manufacturer of injection molding machines, will demonstrate moulding with INEOS Styrolution's Novodur® ECO material at the K 2022 in Düsseldorf.
Haitian will demonstrate moulding with INEOS Styrolution's specialty ABS material on a new Zeres machine which will be showcased for the first time in Europe. The new moulding machine offers an effective energy-saving concept, complementing the sustainability aspect of the ABS material used in the demonstration. Visitors to K 2022 are invited to experience the demonstration at Haitian's booth in hall 15 / A57. Visitors, interested in more information about Novodur ECO, can visit INEOS Styrolution's booth in hall 6 / D28.

Novodur is INEOS Styrolution's brand of specialty ABS copolymers used in a broad range of industries including automotive, construction, electronics, household, healthcare and packaging. Novodur ECO is available as mechanically recycled material with a 30%, 50% and 70% post-consumer recycled content. Certain Novodur ECO grades are also available with 50% contribution of bio-attributed content. All INEOS Styrolution ECO grades' mechanical properties match the properties of their non-ECO counterparts. Product carbon footprint (PCF) saving for Novodur ECO is up to 71%.

LEONHARD KURZ will perform live demonstrations at their booth A19 in hall 5 featuring INEOS Styrolution's Clearlux® MABS. The demonstration will aim at merging appealing design with optimised functionality. A specific focus will be on smart, individualised and sustainable decorations for home appliances.
from LEONHARD KURZ's innovative processes and complete solutions combined with INEOS Styrolution's transparent specialty copolymers enable a high degree of individualisation with versatile display surfaces and the integration of backlighting and touch functions. At the K, visitors will learn first-hand how highly efficient and individual human-machine interface (HMI) displays can be created. They will also learn about designs that clearly stand out.

LEONHARD KURZ has selected INEOS Styrolution's Clearlux 816 MABS copolymer for the demonstration. Clearlux 816 offers a unique combination of excellent flow, high impact strength, heat resistance and transparency. It is easy to process and is characterised by its perfect adhesion to LEONHARD KURZ's surface decoration. This results in an excellent combination of the LEONHARD KURZ decoration, the PolyTC® sensors and backlighting.

The display decoration enables effects with a high recognition value. For example, a metallic look can be implemented over the entire surface or in selected areas.

The solution, which is used in a washing machine display, can also be used for appliances such as coffee machines, refrigerators, vacuum cleaners and many other home appliances.

INEOS Styrolution's specialty ABS Novodur H605 can be seen in action at the K fair at LK IMM's booth B45 in hall 13. The material will be part of a demonstration of high-performance colourants on an injection moulding machine from LK IMM.
Novodur H605 is a high-heat injection moulding grade with enhanced flowability, high heat resistance and low emissions, which makes it a suitable material for producing parts for car interiors. The good processability makes it a favourite selection in the automotive industry. Novodur H605 also complies with food-contact requirements and is an excellent choice for products such as toys.

Novodur is a perfect fit for demonstrating the performance of Milliken's wide range of colourants, which can be formulated to be compliant for food and toy applications.

The demonstration will be performed on LK IMM's all-electric moulding machine ELETTRICA EL130T. Visitors to K are invited to see the demonstration at booth B45 in hall 13.

INEOS Styrolution is researching a co-injection solution together with its long-time research partner Neue Materialien Bayreuth (NMB). The third partner in this project is Engel Austria GmbH. First results of the project will be presented at the K at NMB's booth C36 in hall 12 (BayernInnovativ booth) and at INEOS Styrolution's booth D28 in hall 6.
For certain applications, especially for the electronics and automotive industry, moving towards a circular economy requires new technologies that optimise the use of recycled materials. The technologies, jointly explored by INEOS Styrolution and NMB (classical co-injection and Engel's Skinmelt process) take advantage of the surface properties and the mechanical properties of fossil-based ABS material while benefitting from incorporating post-consumer recycled ABS in the core of the product. The co-injection process from Engel allows the inclusion of a significant share of post-consumer recycled ABS. Also, moulding complex 3D applications are possible with this process.

Company portrait
INEOS Styrolution is the leading global styrenics supplier, with a focus on styrene monomer, polystyrene, ABS Standard and styrenic specialties. With world-class production facilities and more than 90 years of experience, INEOS Styrolution helps its customers succeed by offering solutions, designed to give them a competitive edge in their markets. At the same time, these innovative and sustainable best-in-class solutions help make the circular economy for styrenics a reality. The company provides styrenic applications for many everyday products across a broad range of industries, including automotive, electronics, household, construction, healthcare, packaging and toys/sports/leisure. In 2021, sales were at 6 billion euros. INEOS Styrolution employs approximately 3,600 people and operates 20 production sites in ten countries.

A global network and extensive expertise in serving customers' needs Headquartered in Frankfurt am Main, Germany, INEOS Styrolution has a worldwide market presence, which means it is always close to the customer markets and serves their needs in the best possible way. The company's production facilities, systems and processes represent industry benchmarks, and its sites are among the most efficient worldwide.

The company's manufacturing sites are located in Germany (Ludwigshafen, Schwarzheide, Cologne), Belgium (Antwerp), France (Wingles), South Korea (Ulsan, Yeosu), India (Dahej, Katol, Moxi, Nandesari), Thailand (Map Ta Phut), China (Foshan, Ningbo), USA (Channahon, Decatur, Texas City, Bayport), Canada (Sarnia) and Mexico (Altamira).

With best-in-class production technology, advanced R&D skills and strong IP and patents positions, INEOS Styrolution is perfectly equipped to ensure the highest level of quality, efficiency and innovation. The company's processing and market expertise and vast experience make it an attractive partner for customers in various industries.

Well-balanced and diversified product portfolio
INEOS Styrolution offers the broadest portfolio of standard and specialty product grades in the styrenics industry. Among the key players in the market, INEOS Styrolution is the only company dedicated entirely to styrenics ("styrenics pure play").
Styrenics are one of the most important thermoplastics. In comparison to other polymers, they have low density and high stiffness, incomparable aesthetics, offering good processability a balanced performance, and excellent value for money.
Styrolution ECO is a new brand comprising products made from post-consumer recycled material as well as renewable feedstock. This new family of solutions will reduce the amount of post-consumer waste going to landfill, support the recycling of post-consumer plastic waste, and efficiently use existing resources to allow for full circularity.
Styrene monomer (SM) is an intermediate product. It is a colourless liquid that polymerises easily.
Polystyrene (PS) is a thermoplastic resin that is used in many applications, such as disposable packaging, electronic devices, large appliances and household goods.
Acrylonitrile butadiene styrene (ABS Standard) is a thermoplastic resin, used primarily in colourful aesthetic products such as vacuum cleaners or power tools that need to be heat- and impact-resistant. It is also commonly found in vehicles, mobile phone housings and products for recreational use.
ABS Specialties, in contrast to ABS Standard, are available in pre-coloured grades and possess many unique features to fit the most demanding product applications.
Styrene-butadiene block copolymer (SBC) is a thermoplastic resin that is transparent and impact-resistant. It is used to provide a high optical appearance and is mostly found in food and display packaging.
Styrene-based copolymers (SAN, SMMA, AMSAN, ASA, MABS,) and blends (ABS/PA, ASA/PA, ASA/PC, MBS) are thermoplastic resins that are mainly used in various technical applications, such as vehicles, garden equipment, tools, appliances, consumer electronics, communications devices and computers.
Helping customers to succeed by providing the best solutions
INEOS Styrolution employs different business models to serve the different needs of customer using styrenics for their products.

INEOS Styrolution's key objective is to support the success of its customers in their markets and to provide them with a competitive edge. Depending on the application and field of business, this can mean: helping customers be more innovative or more efficient than their competitors, always having the right polymer for any challenge at hand or producing at a lower cost. Working with INEOS Styrolution stands for ease of doing business and peace of mind for the customer. To help its customers achieve their individual goals, INEOS Styrolution offers top reliability and the highest product quality (ensuring lot-to-lot consistency and processability), innovativeness (for greater efficiency and a higher level of product differentiation), high-quality services (including the development of new models for cooperation) and professional customer relations.

INEOS Styrolution works closely together with its customers in order to provide them with the best solutions. Examples include:
Its self-colouring concept for ABS offers the highest flexibility for colour changes, provides brilliant surfaces and helps to reduce inventories
Its SBC shrink sleeves can be used on even the most complicated designs (for example on unusually shaped beverage bottles)
In the automotive industry, front grills made from ASA can be used instead of painted parts, which saves costs and makes them a very sustainable solution
A new ABS grade has been specially developed for electroplating applications in the sanitary and automotive industries
Healthcare and diagnostics grades combine high performance with a comprehensive service package. Products come with a long-term guarantee and a continuous support programme.
Visit us at the K fair. We would be pleased to meet you on our booth:
Hall A6 / Booth D28