Negri Bossi
CanBio Hydraulic Machine - digital technology that has revolutionized injection process
DIGITAL, VERSATILE AND RELIABLE
Through a completely digital control, Canbio provides high moulding accuracy and improved repeatability of the moulded parts.





SIMPLE, SILENT AND INEXPENSIVE
The engineering design provides user-friendly machine operation. Thanks to the design of the new hydraulic system, digital pumps with direct control of pressure and delivery, capital investment and running costs are kept to a minimum (from 15 to 20% less energy consumption than an equivalent traditional machine).

TRADITION AND RELIABILITY
A Finite Element Method algorithm has been employed to define the dimensions of the clamping unit in order to eliminate deformation and thereby guaranteeing that even the most sophisticated moulds can be safely utilised. Additionally, the tie bars are manufactured from very high wear resistant chromium-plated steel.

The plasticising unit is equipped with a wear resistant bi-metallic barrel and high efficiency ceramic heater bands as standard as well as a patented fast change- over system. Operator comfort is maximised by reduced noise levels and improved machine accessibility.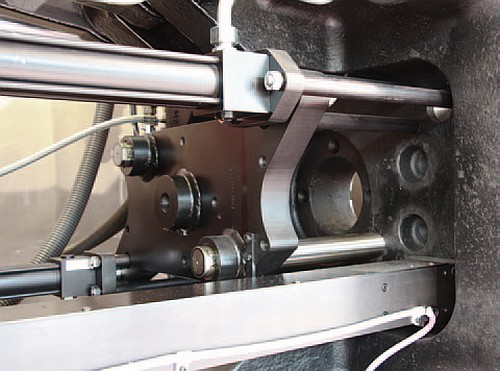 CANBIO HAS "CANVERTED" THE ON-BOARD STANDARDS OF MACHINE EFFICIENCY, RELIABILITY AND COMFORT
The mould thickness and clamping force adjustment system makes mould adjustment faster and more accurate without the need for intervention by the operator (easy set-up).

The electric-hydraulic system provides efficient energy consumption, even when the machine is used at maximum performance levels. The digital network con- necting the servo-pumps and proportional valves provides high communication efficiency with the machine control system and also allows the monitoring and the set-up of machine components directly from the control system.

The magnetostrictive position transducers make the machine more reliable and accurate. The transducer is also watertight to assure immunity to oil and water contamination. The operator interface is based on a JAVA platform in order to guarantee compatibility with any type of PC hardware.

he automatic tie-bar removal system is available as an option to allow higher flexibility during mould changes in difficult conditions, such as a low ceiling, bulky mould, etc. The machine can be equipped with an integrated Cartesian robot from the NB "FLASH" Series which can be controlled and managed directly from the machine's control system.

Product-Link
For more information please click here.

Download
Catalogue
Vertretung in der Schweiz:


TRADCON AG
Gewerbezentrum Arova
Postfach 10
8247 Flurlingen

Tel. 052 / 643 67 60
Fax 052 / 659 27 23
Mobil 079 / 671 30 64

tradcon@swissworld.com
www.tradcon.ch
www.negribossi.com


Quicklinks
Lieferprogramm
Maschinenbörse
Kontakt
Maschinenübersicht

Für mehr Informationen bitte auf die untenstehenden Links klicken
CANBIO Hydraulic Machines
CANBEL Full Electric Machines
CANBIMAT Multi Material Machines
VECTOR Hybrid Machines
BI-POWER Two-Platen Machines
FLASH Kartesische Roboter
JANUS Modular Hybrid Machines

BM BIRAGHI Sintesi Maschinen
STANDARD VERSION
TRH Thermoset Transfer Machines
TI Thermoset machines
PV Vertical Machines – Inserts
LSR Liquid Silicon Rubber
TWIN Multi Material Machines
---

---



Kunststoff-Schweiz - das Internetportal für die Schweizer Kunststoff-Industrie