Deutscher Text >>>

swiss-sonic Ultraschall AG is a development and manufacturing company for state of the art ultrasonic components applied in standard machines as well as customized machinery. Stand-alone machines but also semi and fully automatic production plants are equipped with swiss-sonic high quality ultrasonic components.


The applications of our products are welding, riveting, beading and calking of the

rmoplastic materials as well as cutting, welding and gluing of fabrics and non-woven materials.

Practice and experience for many years combined with innovative thinking and flexibility guarantee optimal solutions for all kinds of requirements with most advanced ultrasonic technology.



We are "small" enough for the better connection to our customer in respect of b

usiness relations, technical advise, support and all other necessities. But we are also "big" enough to offer competent and professional support for complex and deman- ding applications. These are the reasons for our flexibility and dynamic.

We are pleased to answer your requirements for the development of new solutions together with you. For Ultrasonics – please contact swiss-sonic – the Swiss solution for the better connection.

Our range of ultrasonic welding equipment, sonotrodes as converter and booster is broad and constantly expandable. Therefore, we would be pleased to develop an appropriate solution for you.


Products

Generators

Generators type range Cobra / Viper / Boa working frequency 20 und 35 kHz
Compact generators with integrated control for hand-held units, welding presses, standard and customized machines.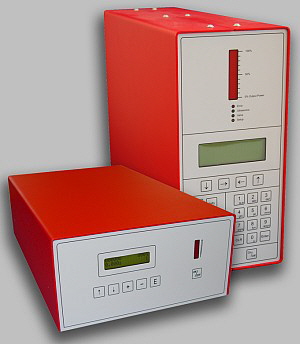 Generators type range Python and Mamba working frequency 20 und 35 kHz
Built-in generators with interface for main controls for the use in automatic and semi-automatic standard and customized machines.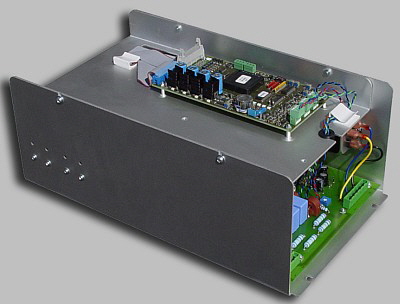 Converter / Booster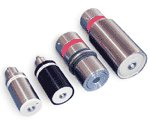 Converter
Converter CV 2010
Converter CV 20 A1
Converter CV 3510
Converter C 3510-R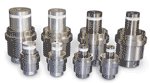 Booster
Booster 20 kHz Alu: 1:1 / 1:1,5
Booster 20 kHz Titan: 1:1,5 / 1:2 / 1:2,5 / 1:3
Booster 35 kHz Alu: 1:1 / 1:1,5
Booster 35 kHz Titan: 1:2 / 1:2,5 / 1:3




Welding feeds / Accessories



Welding feed units
Compact feed units for 20 und 35kHz applications, for standard and customised machine design.

With precision linear guides, pneumatic cylinders and depth stop. Partially with pressure controller, pressure gauge, pneumatic valve and pressure differential trigger.

For direct activation by generator or external control.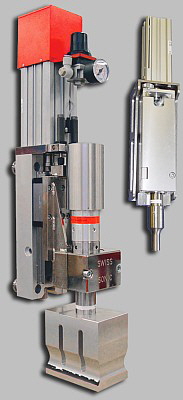 Actuator UWA 35-100
Ridgid high precision 35kHz pneumatic welding actuator for customized machine and production lines.

Suitable for small until medium sized welding application. Riveting and cutting application.





Interface Triggerbox / Triggerprint
The Interface Trigger box contains pressure controller, pressure gauge, speed control and pressure differential trigger. For the control of welding feed units without own pneumatics or for customised manufacture.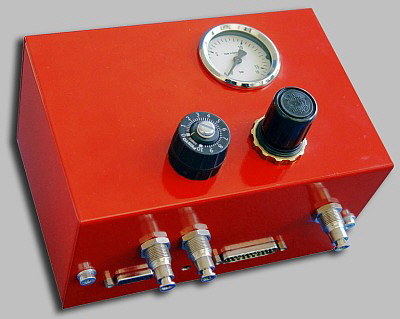 Sonotrodes

Sonotrodes

Sonotrodes for 20 and 35 kHz applications (other frequencies on demand) made of special high-strength materials like aluminium-, Titanium-alloys, steel etc..

The sonotrode needs particular attention. Optimal welding results are only possible with a correct design and adaption.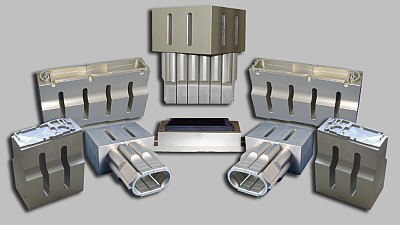 Special sonotrodes and Welding acceptances
For voluminous formed parts or plastics with a high amplitude demand, specially assembled sonotrodes with attached spikes are applied.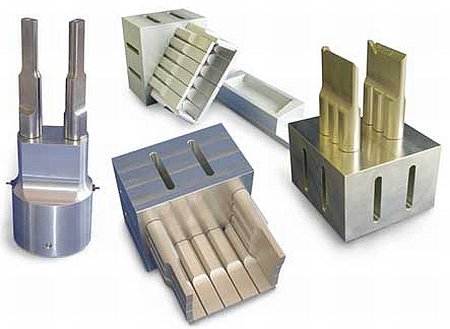 Hand-held equipment

Redesign Hand-held unit UCW 35
We redesigned our ultrasonic Hand-held welding unit type UCW 35 which is the ideal solution for limited-lot production and small-batch production.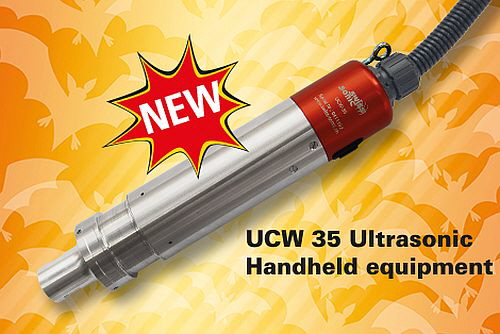 Hand-held welding unit UWH 35
Compact Ultrasonic hand-held welding unit for welding, spot-welding, riveting, tacking and calking of plastics, thermoplastic coated and thermoplastic fabrics.

Applied in studios, car manufacturing, difficult accessible or overhead areas and i

ndustrial assembly yards. Cost-efficient Ultrasonic Welding equipment for li

mited-lot production in studios, small and medium enterprises.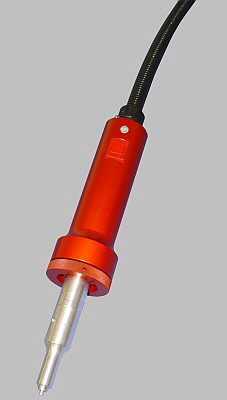 Hand-held cutting unit UCH 35
Compact Ultrasonic hand-held cutting unit for cutting of fabrics, non-woven materials, foils etc. Ideal for straight and curved cutting. With guiding rail on a cutting table the ideal cutting unit also for larger series.



Cost-efficient Ultrasonic Cutting equipment for studios, small and medium-sized enterprises. At best adequate for single cuts as well as for small up to medium serie

s.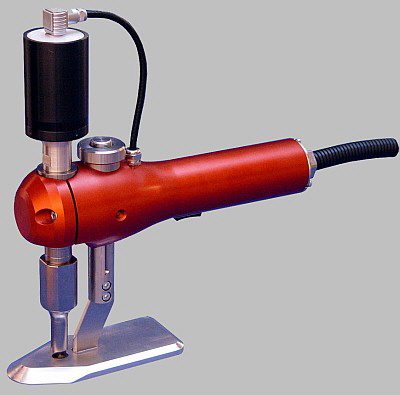 Hand welding unit UWG 35-2
Compact ultrasonic hand welding unit UWG 35 to weld, spot weld, rivet, staple thermoplastic and textile materials.

For car parts which are difficult to access and industrial assembly site.

It is a economical solution for small series especially for small and medium sized enterprises.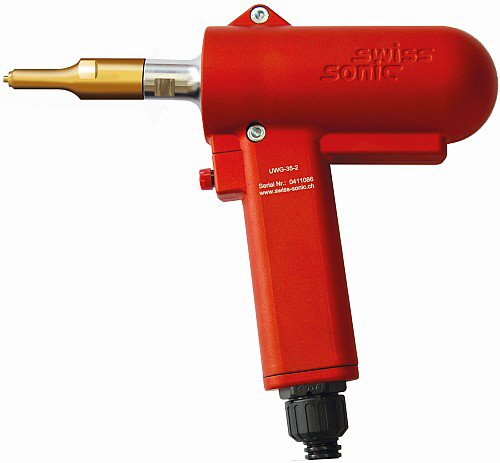 Welding machines



20 kHz Welding press
Suitable for welding, riveting and forming of thermoplastic parts as well as welding, punching and cutting of nonwovens and textile materials.

Microprocessor controlled for fast and easy to operate. 99 database places to save all working parameters.

Welding modes: Time / Energy / Distance / Force / US Stop
Time and Differentialpressure Trigger
Parts measuring system
Distance welding: absolute and differential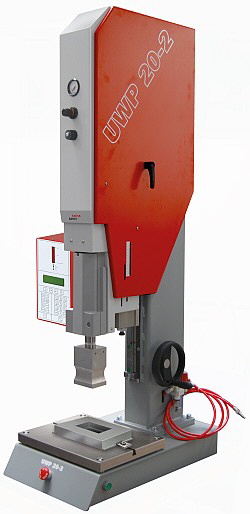 UWP 35-2
35 kHz Welding press
Suitable for welding, riveting and forming of thermoplastic parts as well as welding, punching and cutting of nonwovens and textile materials.

Microprocessor controlled for fast and easy to operate. 99 database places to save all working parameters.

Welding modes: Time / Energy / Distance / Force / US Stop
Time and Differentialpressure Trigger
Parts measuring system
Distance welding: absolute and differential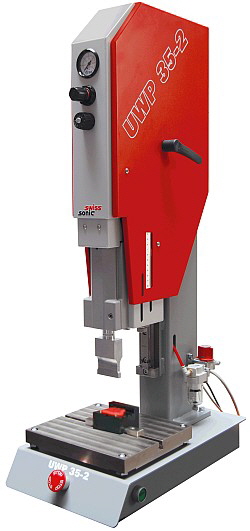 Activities
Development, manufacturing and distribution of Ultrasonic Generators, Components, Welding equipment, Welding and Cutting tools as well as Welding Acceptances.

Advice about parts design suitable for Ultrasonic Welding and welding zone geometry as well as the choice of appropriate tool materials.

Principle tests and welding of samples in our own application technology laboratory.

Repair service.


Applications
Welding of thermoplastic parts, reshape, rivet, beading, sealing

Threaded insert and metal parts to be welded in thermoplastic parts

To cut synthetic textile, wovens and non wovens as also filter material

To cut and seal the edge in one process

Activate foils and adhesives cut different foodstuff