Deutscher Text >>>

The range of the environmental service provider Tönsmeier includes, among others, cross-border disposal concepts for the plastics industry. When the company was looking for a new central granulator for its location in Börde-Hakel to economically shred pieces of HDPE and PP pipes, they chose the RS 8012 Rotary cutter from Getecha. The modern heavy-duty granulator was integrated into the existing recycling process and achieves a 35 percent higher throughput than its predecessor using 20 percent less energy!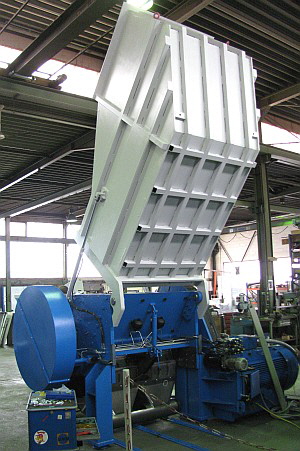 The RS 8012 central granulator from Getecha before delivery

Massive lumps, sticky flashes and heavy leftover pieces – the heavy-duty plastic granulators of the Rotary cutter 8000 series from Getecha can handle such polymer remnants. At Tönsmeier Kunststoffe in Börde-Hakel in Saxony-Anhalt, it is pieces of HDPE and PP pipes which have been shredded by a Type RS 8012 central granulator since the middle of last year. And these pieces are no easy task: Because they can weigh as much as 21 kg, are up to 1,500 mm long, have a diameter of up to 315 mm and a wall thickness of up to 29 mm! As they often arrive directly from construction sites, they are still covered in sand, lime and other abrasive minerals. This places high demands on the whole granulator design; especially on the quality of the rotors. "Additional requirements regarding output performance were requested by the Tönsmeier engineers: An average of 900kg per hour and a minimum operating time of 65 hours without having to change blades!", reports Getecha Sales Representative Harald Oberholz.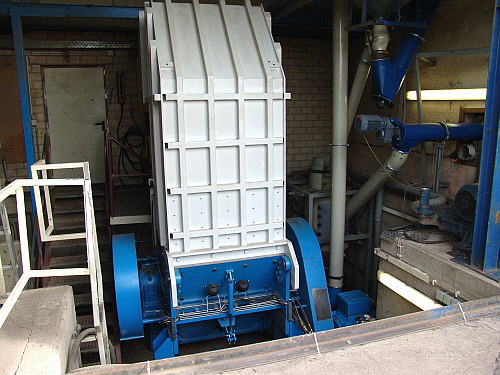 The RS 8012 Rotary cutter in the installation pit at the recycling plant of Tönsmeier

Made for heavy duty
The old central granulator was no longer able to meet these requirements in the recycling process of Tönsmeier. The heavy-duty granulator 8000 series from Getecha on the other hand, is perfectly suited for such difficult requirements. These granulators are made for hourly throughput rates of up to 3000 kg and have 3-,5-, or 7-blade rotors, which are flexibly-segmented. This makes it possible to adapt to the various properties of the materials to be cut. At the recycling plant of Tönsmeier it was decided to use a RS 8012 with a 7-blade rotor and four stationary blades, as well as a cutting width of 1,200 mm (rotor diameter 800 mm). An additional flywheel was put on the rotor shaft to powerfully shred the solid pipe pieces. The rotor blades are adjustable and have an adjustment gauge and positive stops for the stationary blades. "A blade replacement – which is important to maintain a high-quality recyclate constantly – can always be carried out easily and quickly", explains Harald Oberholz. The blades of the RS 8012 from Getecha work as scissor-cutters which help to improve the heavy-duty granulator's energy efficiency. Because the pieces of pipes are covered with abrasive minerals, the new granulator was equipped with a complete wear protection. All wear protection components can be easily replaced even after many years, thanks to their bolt connections.

The new RS 8012 was very easily integrated into the existing recycling process of Tönsmeier. It is installed in a pit in which the heavy-duty granulator is fed by means of a conveyor belt. The existing extraction system and its connections were able to be reused. The necessary technical changes to the controls were carried out by the Getecha technicians. For this, the recycling plant's signal processing (belt over- load, On- and Off routines etc.) was integrated in the heavy-duty granulator's switching cabinet.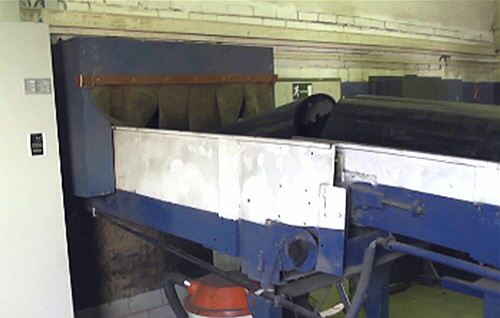 The RS 8012 is fed by a conveyor belt

Controller reduces power consumption
With its 160 kW motor, the new heavy-duty granulator has the same drive power as its predecessor. "However, already during the first trial runs it could be seen that our Rotary cutter achieves around 35 percent higher throughput! And this using approximately 20 percent less energy", explains Harald Oberholz. The responsible people at Tönsmeier were especially pleased with the effects of the Energy Save motor management from Getecha. Not only does this controller offer a gentle start- up, but by continuously collecting the drive performance data (current, voltage, cos phi) it always calculates the best motor voltage for the most energy-efficient operating mode. It always supplies the motor with only the actually required voltage. "And this without losing any torque!", points out Harald Oberholz.



View into the flexible, segmented rotor from Getecha


Product link
More information can be found here.


Download
General leaflet Getecha (PDF file, 1,3 MB)


About us
Since being founded in 1956 we offer innovative, complete solutions from one source for both plastics granulation and automation technology. The result is economical and reliable granulators and automated systems that are used globally by renowned companies.

Supplier-independent development and manufacture of products at the company's own site means that we achieve a maximum in quality, flexibility and closeness to our customers. Long-term economic success can be only achieved when everythin is right. We never rest on our laurels but consciously and consistently expedite a continuous process of improvement.

GETECHA has a worldwide sales and service network at their disposal. We guarantee fast, uncomplicated support.