Deutscher Text >>>

Rolf Schlicht GmbH, Hamburg, will show its latest techniques in the area of cutting of hoses, pipes, profiles made of plastic and rubber material on its booth 6111 in hall A6 during the Fakuma 2011 in Friedrichshafen:

RS Multicut Orbital Cutter
A new cutting system for semi-rigid and rigid pipes which is used instead of saws, guillotines etc.

The orbital cutter type OC-40 is suitable for product speeds of 1-50 m/min and product diameters of 1-39 mm. The cut depth is 1-20 mm.
Cut lengths of 50-10.000 mm at a linear resolution of 0,1 mm are possible.
The blade revolution is 1-1000 1/min, the cut cycle 1-10 rev.



The machine type OC-65 is suitable for product diameters up to 65 mm.

Cutting system for precise and fast cutting of semi-rigid and rigid pipes made of plastics, rubber, plastic composites with rigid/soft aluminium or copper pipe inside or rubber with Kevlar or steel braiding etc.

The machine can be demonstrated in function.



RS Multicut Orbital Cutter OC-40 - a new dimension in the scope of cutting plants




RS Multicut Rotation Cutting Machines MC-50, MC-80, MC-100
Execution as combined cutting machine with caterpillar in-feeder type CC-600/50 for precise cutting of soft and semi-rigid extrudates up to about 50 mm diameter at highest line speed and cutting cycles up to about 400 cuts/min in stop/start operation and up to 4000 cuts/min with continuously rotating knife. Diverse feeding and discharging systems are available respectively are being built according to customers' demands.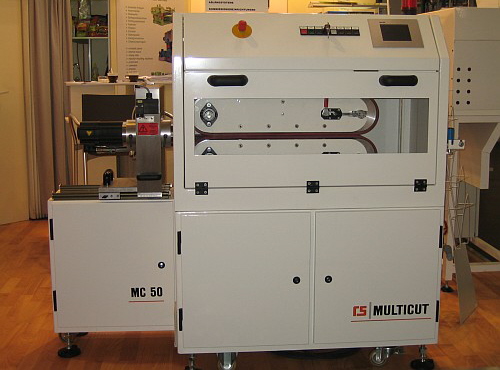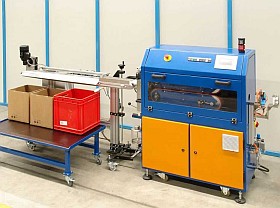 RS Multicut Combined Cutting Machine RS Multicut Combined Cutting Machine CC-600/50 with Commissioning System

The machine can be demonstrated in function.


Cutting Machine
Robust cutting plant for cutting of soft, semi-rigid and rigid plastic and rubber materials. The running strand is transported by caterpillar or roller in-feeding systems through the well fitting cutter bushes.
Cutter blades of most different executions cut ultra quickly through the passing strand which secures a clean, straight cut without swarf.

Options like heating, moistening or blowing in of air ensure optimal results. Depending on cut length and line speed, the system works in stop/start operation or continuously. The length accuracy is secured by optimal and most modern measuring and control units.

Simple operation, shortest changing times for knives and bushes guarantee best availability and flexibility of the plant.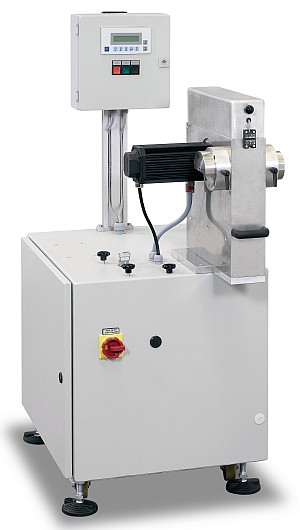 Caterpillars
A robust, easily accessible conveying unit ensures a precise and reliable opera- tion with this system.

Two slip-free conveyor belts receive the extruded material and convey it consistently through the machine. By motor adjustable belts the pressure on the material is only as little as required for the transport. Simple closing/opening by hand wheel is also available. Depending on the application we offer belts with different coatings.

The precise Lenze control and motors assure optimal adaptation, best synchronization at low as well as at high extrusion speeds. Diverse interfaces for connection to upstream and/or downstream equipments are available. The machine hood is constructed so that easy and quick accessibility is guaranteed, for example for a change of belts without tools.

Diverse options are available like drive of both belts, direct servo-drives, adjustable pressure of the upper belt, execution for medical applications (clean room), different belt coatings, drive capacity etc.





RS Multicut Caterpillars




Outlet Conveying and Commissioning Systems
We also supply complete plants with outlet conveying systems according to customers' demands, outlet conveyor belts, different lengths and widths with blowing-off units and collecting bins or ejecting systems.

For short lengths we can supply commissioning systems for exact piece quanti- ties, with controls, storage, changing and counting systems and special plants as per customers' request.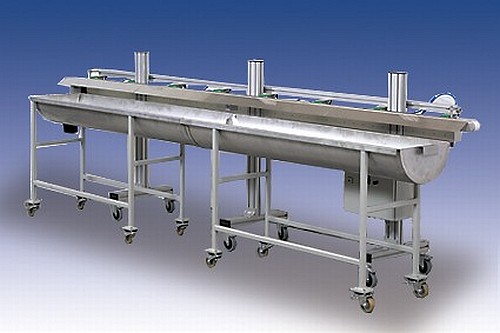 Product Overview:
Air misers
Outlet conveying systems
Cutting systems
Band granulators
Powder coating machines
Extruders, extrusion lines
Film splicing presses
Used machines
Bale cutters
Horizontal splitting machines
Cable strippers
Caterpillars
Cleaning compound
Cutting machines
Splicing machines
Lancing machines
Plastic blast media
Strip cutting machines
Tools
Coilers


Visit us at the Fakuma. We would be pleased to meet you on our booth (hall A6, booth 6111).