Deutscher Text >>>

Three in one go: At the trade fair Fakuma HERBOLD MECKESHEIM will be showcasing the whole range of size reduction technology: Shredder, granulator and pulverizer from one single manufacturer.

The HERBOLD granulator SMS 45/60 is an extremely solid granulator for heavy- duty applications: high-performance fibres, composite materials, thick-walled semi- finished products, pipes, plates are typical applications. The granulators of the SMS series are machines with a working width between 600 and 2000 mm and a throughput performance between 500 and 8000 kg/h. All the machines of this series can optionally be delivered with the half-open rotor of the A series. The rotor knives are held by a limit stop so even under great strain they will absolutely remain in place - even with the highest cutting forces this knife constellation will withstand. Due to the solid forged ingot steel execution, the rotor has a high inertial mass and a high torque. Where small or medium-sized granulators fail, the granulators of the SMS series from HERBOLD Meckesheim will do the job.

The machine can also be used for highly abrasive materials. The grinding chamber is equipped with exchangeable wear plates on all sides, and this also applies to the critical support of the stator knives. The rotor can be equipped with wear cassettes and extremely obtuse cutting angles ("guillotine shear principle") can be achieved. Here some typical applications: used tyre recycling, glass fibre reinforced plastics, disintegration of composite materials in order to separate their metal components.



Herbold rotor A series



The new HERBOLD single-shaft shredder HR 62P is a small compact shredder for in-house purgings. This compact machine has been designed for recycling purgings directly inside injection moulding or blow moulding companies. Often it is only a small quantity of waste; with increasing commodity prices, however, it will become interesting to find an appropriate recycling solution, even for small quantities of waste. With only few investment costs, it can easily be realised with the compact well-priced HERBOLD shredder HR 62P. You only have to fill the feeding hopper, dosing and processing is achieved without operators.

The material is size-reduced between the rotor and stator knives of the tiller rotor, load-controlled feeding is ensured by a hydraulically activated ram. The main drive for this low-speed shredder is an 18.5 kW gear motor. The granule size of the material is determined by a screen insert; screens with 15-to-50-mm-mesh size are customary.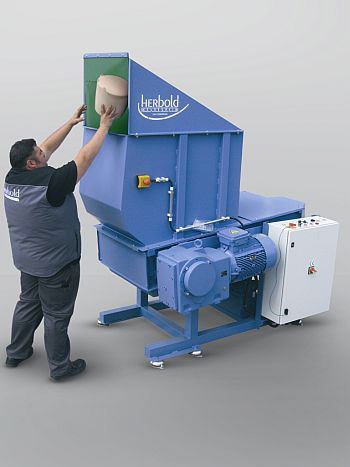 Herbold Single-shaft Shredder Type HR 62P



For pulverizing plastics into a free-flowing powder, the HERBOLD pulverizer PU 500 is the showcase representative of a whole series of machines with a rotor diameter between 300 and 1250 mm and a drive capacity between 22 and 250 kW. The main application of this machine is the pulverizing of PE, PP ABS for rotational moulding and compounding companies. The pulverization of rigid PVC is also a proven recycling procedure for pipes, profiles, plates and films and well- established in the market. If this plastic scrap is pulverized into powder, it can optimally be reused without any material degradation.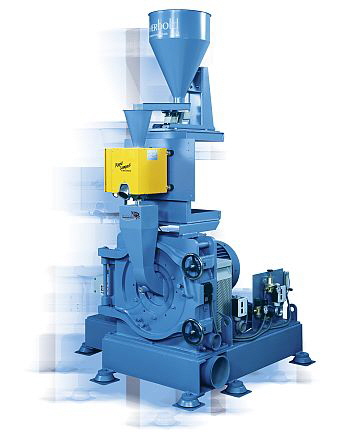 Herbold Pulverizer Type PU 500



Besides the size-reduction technology, HERBOLD's product range also comprises the immediate downstream machine technology: with the help of the HERBOLD plastcompactor, scrap materials with poor flowing properties (fibres, foams, films and powders) can be transformed into high-quality agglomerate with a high bulk density and good flowing properties. In addition, HERBOLD MECKESHEIM also manufactures complete washing and separation lines for contaminated and mixed plastic waste.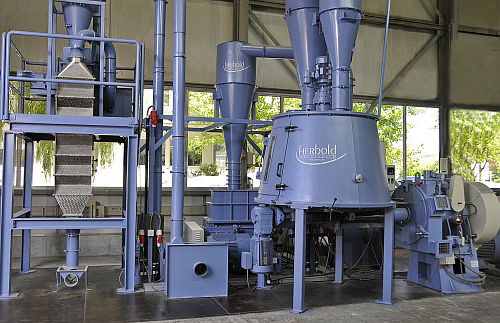 Herbold Plastcompactor Type HV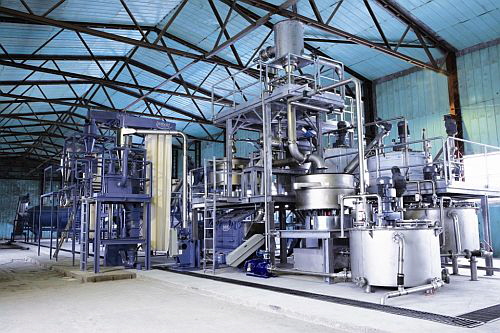 Herbold PET Washing Line



HERBOLD MECKESHEIM is offering a first test, free of charge and without commitment, on these machines in our technical laboratory. There it will be possible to test the efficiency and performance of our machines under real production conditions.


Impressive results with the HERBOLD plastcompactor when recycling plastic films
BOPET and BOPP films with heavily printed surface or metallized cannot be treated with traditional recycling processes, or at least only with great difficulty due to the high standards required for the degasification of extruders.

Herbold succeeded in finding a reliable solution: the HERBOLD plastcompactor. Thanks to its design as an "open" system, it can successfully cope with entirely printed or metallized films.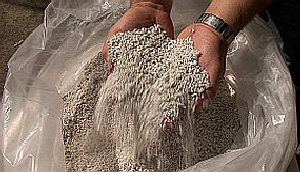 Fig. 1: Recycling of difficult material: Thin films with printed or metallized surface




Fig. 2: The end product: agglomerate with high bulk density and excellent flow properties



The HERBOLD plastcompactor transforms film waste in agglomerate with excellent flow properties and a very high bulk density that can then be further processed on injection moulding machines or extrusion plants similar to new material.

How does a HERBOLD plastcompactor work?
The material is continuously processed between a rotating and a stationary compactor disc, equipped with screwed-on exchangeable kneading bars. The pre-size-reduced material is continuously conveyed to the working zone through the centre of the stationary disc. The friction arising at and between the compactor discs very quickly heats the material, rendering it slightly sintered.
Afterwards, the heated material is fed to a hot melt granulator, turning it into agglomerate with good flow properties and a high bulk density.

The procedure is a particularly economic one and due to the automatic operation of the HERBOLD plastcompactor, www.herbold.com, no operators are needed. The densifier for plastics available in several sizes achieves a throughput performance between 100 and 1.400 kg/h.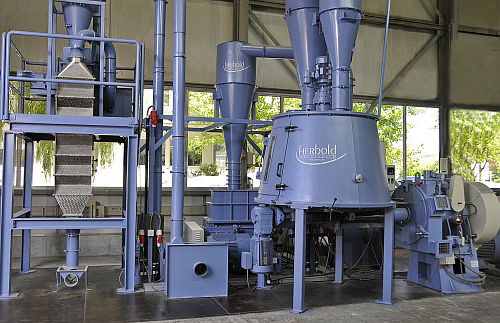 Herbold plastcompactor type HV 50



A typical representative of this size is the compactor HV 50 with a 110 kW drive and a throughput performance of approximately 800 kg/h with A-PET or PET-G. There is a positive side effect when processing PET film: the material is crystallized at the same time.

Besides the treatment of uncontaminated waste, the HERBOLD plastcompactor can also be used downstream of a washing line for contaminated waste: here the material is dried at the same time, a process that can very easily and effectively be achieved with very thin LLDPE films or with LLDPE stretch films.


Videos

Visit us at the Fakuma 2011. We would be pleased to meet you on our booth (hall A6, booth 6502).