Deutscher Text >>>

Enormous forces, or in extreme cases, machine damage can occur should two lumps become wedge-shaped in a shredder's grinding chamber, or the slip-stick effect arises, and it leads anyway to machine down-time. This has to be avoided in the interest of high productivity and efficiency. B. Braun Melsungen AG, one of the leading producers of medical and pharmaceutical products therefore decided to go for a large lump shredding mill to shred LDPE start-up lumps. K-PROFI magazine spoke with Mike Eske and Andreas Panarin on the spot at B. Braun Melsungen about details of the motivation for the decision to buy a lump shredding mill and the positive experience obtained with it in practical day to day use.



In der Produktionshalle werden die Anfahrklumpen in Kisten gesammelt und danach vollautomatisch über eine Kippvorrichtung auf das Förderband der Brockenmühle befördert



"When the colossus, as our staff jokingly called the lump shredding mill, was being constructed during its installation two years ago, we were somewhat surprised by the size, but its performance capability was so impressive that we are very satisfied with the decision and the support by the producer, the company Hellweg", reports the foreman of the pharmaceutical service centre, Mike Eske right at the start of the discussion.


Expanded and extended

But now right from the beginning: The so-called LIFE plant (Leading Infusion Factory Europe) of B. Braun in Melsungen has developed more than just positively over past years, as has the entire pharmaceutical industry. The number of employees doubled from 2003 to reach 1,200 in 2017 and the number of blow-fill-seal lines increased from the initial three to six lines. 245 million LDPE bottles/year are produced today on these extrusion blow moulding process lines today, in 250, 500 and 1,000 ml sizes in the. They are filled directly with isotonic NaCl, Ringer or glucose solutions and closed with a special closure. The Ecoflac plus bottles, as they are called, combine low weight and collapsing ability with the stability and easy handling of a bottle.

"We make an important contribution towards saving resources with the bottles. They are much lighter compared with a conventional bottle, as they are produced with less material and are entirely recyclable, as they consist of 100% LDPE", emphasizes Andreas Panarin, as Project Manager for B. Braun Melsungen's global process engineering. This is a decisive advantage of the infusion bottles, which are used worldwide on patients for drug administration, clinical nourishment, volume replacement solutions or fluids therapy. 35% of the entire polymer consumption for bottle production at B. Braun comes from the company's own in-house recycling.

And it is precisely here that the lump shredding mill is used, to shred start-up lumps, which are inevitable in production. The shredded material obtained is processed further into granulate in a twin-screw extruder in a granulation line from the company Leistritz in Nuremberg, and the granulate obtained is then fed back into production. "We process exclusively waste from primary production, which means without contamination and without foreign materials", stresses Andreas Panarin.





"Die Abmessungen des "Kolossos" haben uns zunächst überrascht, aber wir sind heute mit der Leistungsfähigkeit und Zuverlässigkeit der Lösung absolut zufrieden", erklärte Mike Eske vor Ort



Hygienic and fully automated
With reference to primary production, this of course runs at LIFE in compliance with strict hygiene requirements. The entire production area can only be entered by trained staff via pass-through chambers and all critical processes are run in EU GMP Class C cleanrooms. LDPE is processed fully automatically on all of the six blow-fill-seal lines that B. Braun designed for its own requirements and that are partly constructed with components that it constructed itself. Depending on size, 8 to 12 bottles are produced in each blowing stage.

Surplus material arising from cutting the plastic parison at the bottle base and neck areas is fed directly and fully automated to re-processing. Conveyor belts automatically transfer the containers to downstream processes of sterilisation and optical particle inspection before also being automatically transferred to the packing station. But before the infusion solutions leave the company, they are stored for 10 days, submitted to random checks for bacteria and only released for sale after clearance. All bottles that have already been filled, but cannot be delivered, for whichever reason, are reprocessed in Melsungen, but not in-house at B. Braun.


Renewed and eased
Exclusively uncontaminated production waste is processed in the in-house recycling centre. This involves on one hand the parisons. These are presently still fed via conveyor belts from the production hall directly to a small shredder and brought from there to the granulation line. On the other hand, start-up lumps also regularly arise. "We obtain around 600 tonnes of start-up lumps per annum. Each on of them weighs around 50 kg", states Mike Eske.

There was, up to two years ago, only one shredder available for start-up lumps, but it had reached its capacity limit through expansion of the annual production level and, aside from that, it had to be filled by hand. "When making a decision about a new higher performance shredder, it was very important for us to find a solution that relieves our staff", is one of the reasons given by Andreas Panarin for the new investment. Even though B. Braun already had been associated in close partnership with shredder and granulator producer Hellweg Maschinenbau in Roetgen for many years, it was nevertheless decided to obtain a number of offers before finally choosing Hellweg once again. "We tailor made the lump shredder mill for B. Braun exactly to its local requirements", states Managing Director Mark Hellweg. "Many can shred bottles, but the air gets thinner with lumps. And a special shredding technology is also required with such tough LDPE lumps ".

The lifting/tipping equipment for containers with weight up to 500 kg makes a significant contribution towards relieving the staff. They automatically feed lumps to the shredder's steel hinge conveyor belt. "It is entirely irrelevant here whether the shredder is fed with a single lump or an entire container gets into the shredding chamber in one go", adds Mark Hellweg.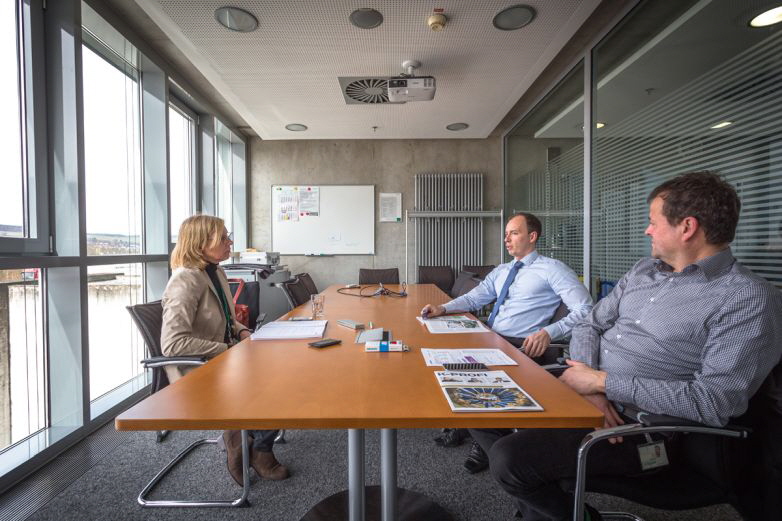 "Im Rahmen eines Lean-Projektes werden wir künftig auch die Butzen in die große Brockenmühle fahren und damit die Prozesse noch effizienter gestalten können", gibt Andreas Panarin einen Ausblick auf die künftigen Aktivitäten bei B. Braun



High performance and energy-saving
The new MDSG 1000/600 BR lump shredder has a shredding chamber opening of 1,000 by 600 mm and works with two stator blades and 12 peeling-action rotor blades. "Due to the so-called peeling cut and the special shape of our U-Cut blades, all our shredders are also able to reliably shred tough and slippery materials", Hellweg explains further. It is the large, robust and especially high performance design that additionally ensures there is no overload and resulting machine standstill, even when a so-called slip-stick effect arises between two lumps, i.e. when static friction exceeds dynamic friction and the lumps "stick together". "We obtain this performance capability via the size of the shredder", says Mark Hellweg.

Despite the size, the lump shredder manages its tasks with very low energy consumption. It consumes only 90 A, just 12 A more than when the 90 kW motor runs free. "We are very happy that we decided to go for the large equipment, as it offers us further potential for optimisation", emphasizes Andreas Panarin. With its maximum performance of 6,000 kg/h, the new shredder can easily shred all of the waste arising at B. Braun, therefore both lumps and parisons. And this is exactly what the company plans to do. "We will put the second smaller shredder permanently out of operation and combine the two material streams, so that we will only operate one shredding line", Mike Eske predicts, as part of the lean project approach adopted by the company.

www.bbraun.com




The Hellweg Company


Hellweg-Maschinenbau has specialised in the development and production of shredding machinery for the plastics industry - especially in granulators/cutting mills.

The sole ownership enterprise formed in 1985 by Bernd Hellweg has been restructured on 1.1.2000 into a limited company, Hellweg Maschinenbau GmbH & Co. KG, that has since been managed as a family-owned company.

After the company had already developed and realised entire projects for renowned engineering companies, greater emphasis has been given to driving forward with development of the company's own products. After years of development and test phases, a range of shredding machines arose, with the highest level of craftsmanship. The excellence in quality gained through contract production became the guideline for the company's own engineering work. The high degree of experience in the area of development and in CNC technology enables a sensible relationship between design and the subsequent production by various machining processes.

The standard range of machines covers mobile machine-side mills, slow-running and central granulators/grinders in different sizes as well as complete fully automated recycling lines. Hellweg Maschinenbau also develops solutions according to specific customer requirements.

With their solid construction, Hellweg granulators stand for advanced technology and guarantee compliance with the highest demands for quality – with a well balanced price-performance relationship - completely made in Germany.


Visit us at the Fakuma. We would be pleased to meet you on our booth.