Deutscher Text >>>


Product-overview




►

A Fast Return for Residues - Getecha implements economic solutions for edge


trim Teleprocessing - Info >>>


►

A thinking dancer - Getecha is extending its range of infeed granulators for


thermoforming - Info >>>


►

All-rounders in a bespoke package - What makes Getecha's granulators so


special is their performance and flexibility - Info >>>


►

Productive Residue Recycler - New granulator series from Getecha sets the


standard for mid-sized machines - Info >>>




A Fast Return for Residues - Getecha implements economic solutions for edge trim reprocessing



Direct recycling of edge and centre trims is considered by the film and sheet extrusion industry to be the most efficient reprocessing method. During ongoing production, the system gathers the "residues", granulates them and feeds them straight back to the extruder. This procedure has two main aims: The cycle must be economic and the reprocessed material must be of perfect quality. With Getecha's process-integrated complete solutions that are always customized in an optimum way for the production environment and the film type, the company is always setting new standards.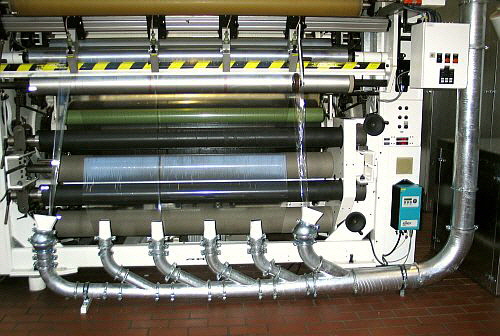 Not a problem even at high line speeds: Continuous, process-integrated feeding of edge trims and centre cuts into the pickup nozzle at the final trimming stage



By directly reprocessing edge and centre trims, companies in the plastics processing industry reduce costs for purchasing new raw materials. At the same time, with external central granulation, they save the resources required for transportation, storage and processing of granulate. This means that for manufacturers of extruded films and sheets, Getecha implements different innovative solutions for process-integrated reprocessing of thick edge and centre trims. The closed-loop systems, which are designed for high line speeds and high degrees of cost effectiveness, are perfectly matched to the manufacturers' extrusion lines and film types. In three- to five-shift operation, they pay for themselves within less than a year.

Ensuring the Quality of the Granulate
In terms of quality assurance, Getecha engineers set great store by ensuring that there is no additional thermal load on the infeed material and granulate during reprocessing as early as the engineering stage. In addition, contamination of the regrind and separation of the new material and the regrind are excluded. Hygroscopic plastics or fillers are processed directly, which means they have no chance to absorb moisture. The core of the system solution – the infeed granulators of the company's family of rotor cutter – support quality assurance of the regrind. Because adaptive rotor speeds and specially designed screens prevent troublesome long parts and dust particles from being produced. Another quality feature of Getecha systems is their exceptionally low sound pressure levels.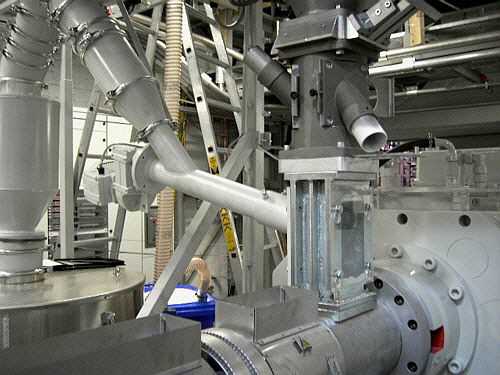 Getecha development: The screw conveyor feeds the main extruder in a controlled way with the fine granulate that was previously processed in the granulator



A practical example in which edge and centre trims are removed at two locations on an extrusion line demonstrate what a system solution like this could look like. At the precutting as well as the fabrication stage, pickup nozzles pull in up to 100 mm-wide strips at a speed of up to 350 m/min and suck them through pipes into a shredding fan or foil cutter for coarse granulation. Fine granulation is then carried out in a Getecha RS 4506 central granulator with output of up to 500 kg/h. The circuit is closed by returning the regrind to the main extruder through a Getecha-developed screw conveyor, which is available in several different versions. One of the main strengths of this total solution is not just that it is possible to process the edge trims of very thin PE, PP and LDPE films (12 µm and above); but also, that all the noise-emitting units like the fan and the granulator are located in a walk-in soundproof cubicle.

Fillers Require Integrated De-dusting
Shredding and returning the edge trims of ABS/PP films with a high filler content that are several millimetres thick makes extreme demands of the de-dusting technology. Getecha engineers recently solved a tricky problem like this by integrating a vacuum extractor system in the closed-loop system. In this connection, the intake was on the clean gas side behind the exhaust air filter system. At the cyclone outlet, the material is routed through a rotary valve and the exhaust air is cleaned with cartridge filters. Another special feature of this system was the use of a soundproofed RS 3004-E granulator with two separate infeeds whose speeds were regulated by a frequency converter. Harmonizing the infeed speed with the outfeed speed of the extrusion line is carried out automatically using a rotary potentiometer on the granulator's control bracket (dancer arm) – a Getecha speciality for more than 30 years! Then the regrind is routed across a guide to a material buffer or added directly to new material. With very thin films, a screw conveyor can be used.

"On-the-Fly" Cutting for Thick Sheets
Based on Getecha's years of experience in handling plastics and the company's engineering competence, we don't just feel at home in film extrusion; rather, we also implement systems for edge trim reprocessing in sheet extrusion. In the case of thin sheets, edge trimming is carried out with the aid of a chopper below the cooling zone of the extrusion line; with thicker, rigid sheets (15 mm and above) the chopper works with an on-the-fly cut at the level of the sheet. The residue drops onto a conveyor and is fed continuously to a Type RS 3004 or RS 3806 granulator (or alternatively: to a collection container). The regrind from the granulator then goes directly to the extruder. In the manufacture of foam sheets, an additional feeding screw is used to return the regrind to prevent separation of the different material densities of granulate and new material.

Implementing custom complete solutions is typical of the Getecha range of products. Some people may be most familiar with the company as a manufacturer of granulators. In practice, however, we mostly develop and produce individual automation solutions for economic and process-integrated recycling of residual materials. When doing this, we also take on the difficult cases that some plant engineering companies shy away from.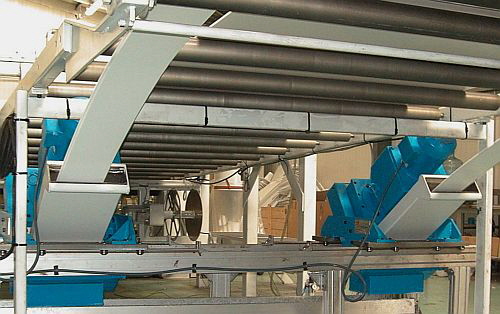 A thinking dancer - Getecha is extending its range of infeed granulators for thermoforming



On thermoforming production lines, Getecha infeed granulators are the interface for efficient further-processing of material residue. Fitted with customize infeed systems and an intelligent speed control, you can integrate the latest generation of Getecha granulators into your existing production environment in an optimum way.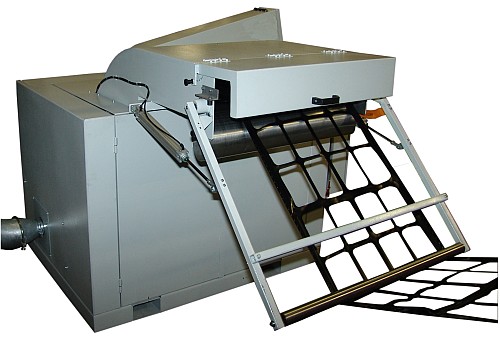 Continuous process: Infeed granulator RS 3009-E pulls in a skeleton sheet from thermoforming



Regardless of whether you produce trays for chocolate boxes, lids for muesli tubs or blister packs for screws – thermoforming is virtually predestined to be the pro- cess for mass producing thin-walled packaging made from PET or Polypropylene foils. Directly and continuously recycling the resulting material residue (scrap web, stock outage, pieces of film) is the job of Getecha's highly automated infeed granulators. The 17 machines in four series allow the Aschaffenburg company to offer an appropriate solution for virtually any requirements: For infeed widths of 390 to 1500 mm and peak throughput rates of 1300 kg/h, series RS 3000 and RS 3800 models are available in which three-blade rotors with a cutting radius of 300 and 380 mm are used to granulate film residue. The larger RS 4500 series models handle peak throughput rates of up to 1500 kg/h. They have infeed widths of 580 to 1480 mm and their blades rotate in a diameter of 450 mm. Currently, the new RS 2400 compact series is waiting to be launched and handles infeed widths of 210 to 900 mm and peak throughput rates of 300 kg/h.

Getecha infeed granulators are machines of modular construction, which re- gardless of the model you choose, can be ideally adapted to their jobs using different infeed systems. Depending on what you want to draw safely out of your thermoforming plant, whether it be films with thicknesses of 0.2 to 1.5 mm, lean scrap web with a minimal foil content, rectangular lattice foil, scrap web of round mouldings or film with non-punched structures, you have a choice of infeed systems with with smooth, knurled, toothed or extra large rollers. A special belt-driven infeed lends itself to applications in which you require greater dynamics in the opening of more than 8 mm. And if your granulator needs to process film residue from two sides, Getecha's engineers can even implement double infeed systems.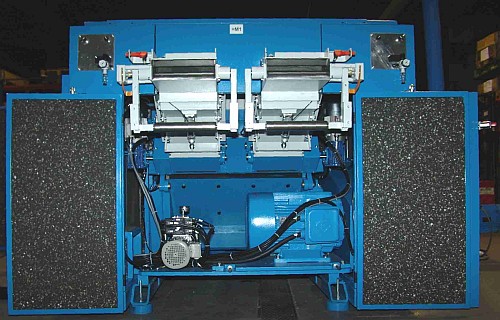 If need be double: highly productive infeed granulator (model Getecha RS 4509- E) with two separate infeeds for edge trims



Permanent Harmonization
The central feature of all the latest generation of infeed granulators is their automatic speed control. In this connection, a "thinking", self-setting floating roller control system – also known as a dancer – permanently adapts the infeed speed of the granulator to the cycle of the thermoforming line. This harmonization doesn't just keep the web tight; rather, it obviates the need to match setpoint values with the production machine and to carry out manual adjustments.

Apart from the intelligent floating roller control system, Getecha infeed granulators are built to impress with their highly effective sound insulation; offset drilling of the screen holes (no interference due to long parts); water cooling of the granulator housing (prevents film from sticking); as well as the option of granulating extra-thin PET film residue (less than 0.40 mm) by means of a special infeed system. Our infeed granulators also demonstrate state of the art energy efficiency. A frequency converter on the main drive regulates power consumption and prevents current spikes; when the machine is idling and at partial load, it reduces the motor output and minimizes reactive current.

Getecha offers another process building block that matches their infeed granulators in the form of various system solutions for transporting granulate using suction or pressure facilities (blower, precipitator, sack-filling station). This allows the manufacturer to cover the whole circuit from the thermoform line through processing of film residue to final recycling in the extruder.




All-rounders in a bespoke package - What makes Getecha's granulators so special is their performance and flexibility



Up to 3000 kilos of production scraps are granulated by the large plastics granulators from Getecha in one hour. The machines in the rotary cutter series are also particularly flexible. With various rotor types, convertible variation rotors and alternatives for feeding and handling, the highly automated systems can be matched to any application.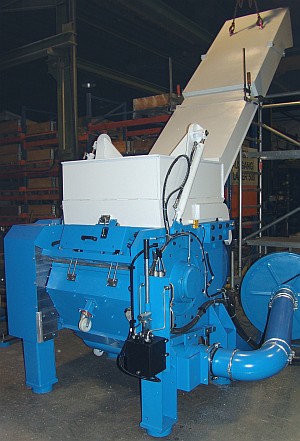 Customer-specific holistic solution: Getecha's RS 6009 large granulator with plate hopper for precise feeding of flat parts



Sticky flash, solid clumps, stubborn residual deposits – such remnants are no match for the RS 6000 and RS 8000 series plastics granulators from Getecha. They are designed for hourly throughputs of up to 3000 kg and have a high level of automation. The strengths of Getecha's rotary cutters also include flexible rotor design and bespoke feed and removal systems. The systems are therefore versatile granulation solutions for injection moulding, extrusion and blow moulding production lines.

At the core of a granulator is the rotor. Its design determines the cutting performance, as well as what materials and what volumes the system can "cope with". Depending on the application, Getecha fits its large granulators with 3, 5 or 7-blade rotors to optimise material infeed and cutting rate. The segmentation of the Getecha rotors also allows the blades to be arranged so that they are accurately aligned or offset. This gives the rotor an open or closed shape. This affects the insertion behaviour of the material to be cut, as well as the throughput, blade service life and blockage tolerance of the rotor.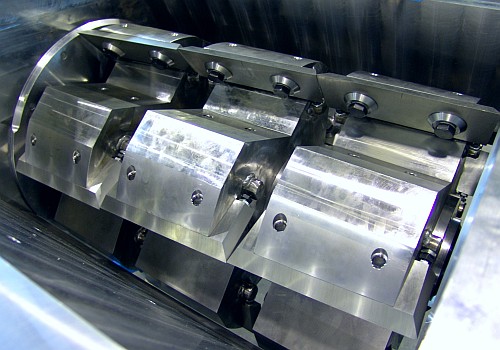 Versatile rotor: the variation rotor (open version shown) can be adjusted quickly and easily to suit the various properties and dimensions of the material to be cut



Versatile rotors
Thanks to segmentation, the rotors of the granulators can be adapted perfectly to suit various materials to be cut and their typical infeed behaviour. The open rotor with its indentations is ideal for bulky, hollow polymer parts. It allows the material to be cut to be deeply inserted between the blades, ensures rapid granulation and prevents unproductive "dancing" of the parts on the rotor. Compact, thick-walled material, on the other hand, calls for the closed rotor shape (cylindrical geometry). In this case, the blades protrude slightly above the rotor segments, "shredding" even the thickest of chunks continuously into small particles.

The flexible variation rotor from Getecha is another technical innovation. It can be converted from an open to a closed rotor by fitting adapting elements. And there is no need to adjust the blades after conversion, because their position is fixed. The variation rotor granulates solid round profiles, plates and chunks, as well as thick-walled pipes – e.g. made of PVC or PP.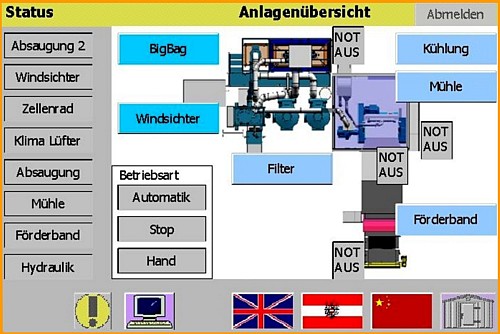 Giving you an overview: user interface of a large granulator showing the individual function modules of a holistic system



Infeeding – the right way
Getecha's infeed technology offers even greater flexibility, integrating large granulators to optimum effect into complex production processes. Depending on whether you want to granulate long pipes, large plates, thick profile sections or thin films, bespoke plate, combination or bypass hoppers can be used. Horizontal feed systems for rods or plates with a length of up to 6 m can be realised. An infeed system feeds long parts automatically into the granulator.

Consistent automation forms a process-related link between the function modules of the holistic systems from Getecha. It ensures smooth interaction of materials handling, metal detection, cutting, disposal of granulate (with big bag fill stations), de-dusting, and cooling and air extraction technology. Illuminated control panel displays indicate the operating status. If requested, Getecha fits the granulation systems with an SPS solution and touchscreen. Messages, warnings or even faults are visualised here on the screen and displayed in plain text (in multiple languages). The systems are extremely user-friendly, and even cleaning and maintenance can be carried out safely and easily – depending on the rotary cutter model, the hopper and grinding chamber open and close electro-hydraulically! Maintenance can also be carried out remotely.

Customer-oriented optimisation of the large granulators with rotor selection, drive motors, wear protection packages, and feed and removal systems is a typical example of a service offered by Getecha. Plastics processing companies always get a bespoke granulation solution to suit their waste material and production environment.




Productive Residue Recycler - New granulator series from Getecha sets the standard for mid-sized machines



The Getecha RotoSchneider range has a solution ready for every plastics-grinding challenge. The compact central granulators of the new RS 2400 series have been specially designed for hourly throughputs of up to 200 kg and can be installed in the vicinity of the production lines. The RotoSchneider granulators will be available initially as hopper-fed models and from 2010 onwards also as conveyor-fed models.






New introduction to Getecha's RotoSchneider range: The RS 2400 series compact plastics granulators for centralized and decentralized application in manufacturing



Whether injection or extrusion molding, blow molding or thermoforming – slugs, sprues and defective parts occur whenever thermoplastics are converted into vendor parts, semifinished or finished products. Getecha's granulators grind these residues carefully so that they can be reintroduced to the production process as usable material. The renowned manufacturer can now complete its mid-size Rotoschneider range with the introduction of the newly developed RS 2400 series. This new series will initially consist of three hopper-fed machines that differ in inlet size (maximum 690 x 395 mm), number of rotor blades (up to 3 x 3) and maximum hourly throughput. All three models have been designed as compact central granulators with which plastics residues can be ground down very economically right in the manufacturing process.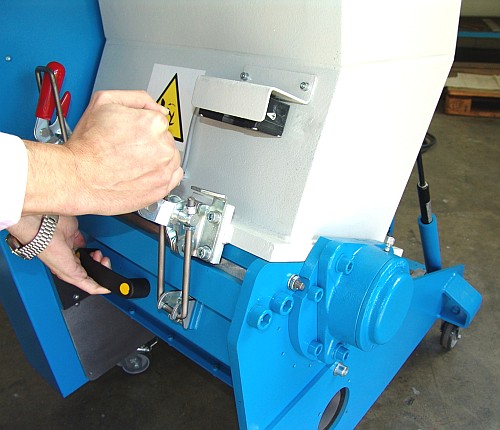 User-friendly: Hopper and granulating chamber are opened by means of a gas pressure spring; no tools are required



Energy-saving continuous motor
The RS 2400 series design is ideal for throughputs of between 60 and 220 kilograms per hour. A large belt pulley guarantees optimal power transmission from the motor to the rotors, and the dimensions of the cutting chamber with its partitionable rotors allows trouble-free continuous operation. Among the many design strengths of the granulators are the robust construction of the welded rotors and the energy-saving distribution of the cutting forces. The constant cutting circle guarantees uniform ground material quality, while the large diameter (240 mm) guarantees that the production residues fed in are captured ideally. The positioning on the outside of the rotor bearings, sealed off from the cutting chamber, is an important safety factor.

Every component and module of the new Getecha granulators has been trimmed for high productivity, simple operation and low service costs. That means that, for example, the hopper and cutting chamber can be opened by means of a gas pressure spring with no tools required and that all areas requiring maintenance are easily accessible. No tools are required to remove the screen, either. It is extremely simple to replace the pre-adjustable rotor blades and the stator blade, secured against a dead stop, needs no adjustment. The operation of the machines of this new series conforms to the latest machinery directive for granulators, EN ISO 12012, as does the electrical equipment. Some typical characteristics are, among other things, the low number of operating controls and the integration of the control box into the machine frame.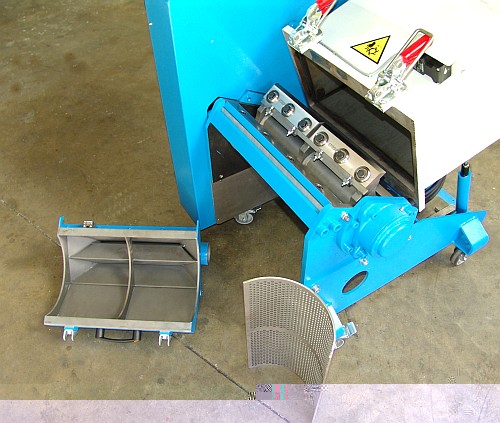 Well thought-out construction: All areas of the new mid-size granulators that require cleaning and servicing can be accessed easily



The conveyor-fed machines are on their way!
With the help of a range of rotor variations and individual wear-protection packages, the new Rotoschneider RS 2400 series can be adapted to optimally suit the needs of different manufacturing environments, branches and customers. And don't forget: in a few weeks, Getecha will be able to offer plastics-processing companies that want to automate the grinding of lead frames, edge strips or film residues the new series as conveyor-fed models for material widths of 200, 400, 600 and 900 mm!

Videos

Visit us at the Fakuma 2011. We would be pleased to meet you on our booth (hall A3, booth 3210).