Deutscher Text >>>

Strength and sustainability – TVEplus technology from EREMA
When processing severely contaminated plastic waste – especially heavily printed film packaging – previous recycling technology often struggled to meet the necessary performance requirements. Binding agents and other additives that are always found in the inks are problematical as they break down in parts at the processing temperatures of the plastic matrix and "outgassing" takes place. The TVEplus technology developed by EREMA offers efficient filtration, homo- genisation and degassing of the highest standard and enables you to process even fully coated and multiple-layer printed plastic waste in a single stage to make high-quality recycled materials. The new plant concept has been promoted on the market since February 2010 and was exhibited for the first time at the world's largest plastic trade fair "K 2010" with great success. 61 systems have already been sold since May 2010. This represents orders amounting to €33.2 million.



EREMA 1310 TVEplus: recycling system with high-performance degassing for thermoplastics



Besides optimised energy requirements, the systems also feature ecoSAVE technology and stand out through user friendliness and operational reliability. EREMA once again confirms its expertise in addressing and fulfilling both the technical and economic requirements facing end users. The focus is always on the basic principle of protecting resources and handling them responsibly. Thanks to the high-quality processing of plastic waste, people who use EREMA systems make a major contribution to sustainability.


Company profile
Since it was founded in 1983, EREMA Engineering Recycling Maschinen und Anlagen GmbH has specialised in the development and production of plastics recycling systems and technologies for the plastics processing industry. The Ansfelden-based company is regarded as the global market and innovation leader in these fields.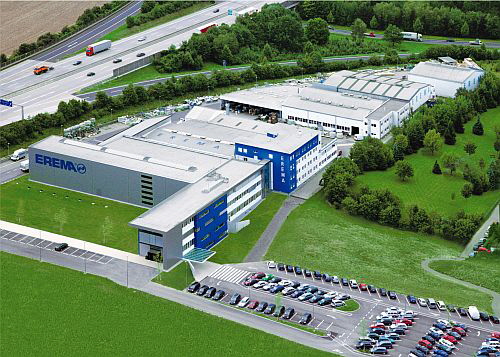 Not only numerous patents and particularly energy-saving and environmentally- friendly systems but also premium quality and maximum customer focus form the basis for lasting, international success. Modern technology and worldwide service ensure that operators of EREMA systems have the full benefit from their plant.

Around 335 employees work for the Austrian group of companies throughout the world. With subsidiaries/offices in the USA, China and Japan plus around 40 representatives in all five continents, EREMA provides custom recycling solutions to fulfil individual application requirements.

The extensive product portfolio is divided into the following main sectors:
• Plastics recycling systems for standard applications and production waste
• Plastics recycling systems for heavily printed/contaminated post-consumer waste
• FDA approved PET recycling systems, efsa approval requested via customers


(e.g. for bottle-to-bottle recycling)
• Inline PET applications (e.g. for fibres, films and strapping)
• Fully-automatic self-cleaning melt filters
• Pelletizing systems



Video
Visit us at the Fakuma. We would be pleased to meet you on our booth (hall A6, booth 6011).