Deutscher Text >>>

At the Fakuma, the international plastics processing fair, which will be held from 18 to 22 October 2011 in Friedrichshafen, WITTMANN BATTENFELD will present its "world of innovation" with state-of-the-art injection molding technology and high-tech processes to trade visitors in hall B1, booth 1204.

Innovative strength combined with sustainability for optimal customer benefit – these are the decisive strengths on which WITTMANN BATTENFELD's success is based. At this year's Fakuma, too, the machine manufacturer will draw the public's attention with innovative new products.

NEW EcoPower 300/1330 and MacroPower 650/5100!
The MacroPower 650 and the EcoPower 300 will be presented for the first time at the Fakuma 2011. This means an extension of the successful machine series of the PowerSeries – down to a smaller size in the case of the large machine, and up to a higher clamping force range for the all-electric machine from WITTMANN BATTENFELD. As a result, the MacroPower is now available with clamping forces ranging from 650 to 1.000 t, the EcoPower from 55 to 300 t. Modular, compact design, energy-efficiency, an open structure for quick mold change and high precision are the distinctive features of the PowerSeries.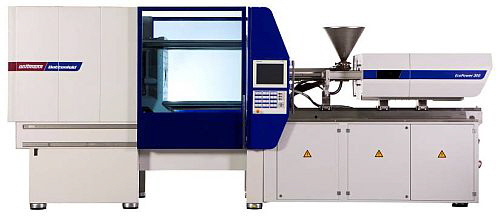 EcoPower 300

At the Fakuma, a fitting for a clamping device with a part weight of 130 g will be produced from PP on an EcoPower 300 with a mold supplied by the IFW group. The cycle time including robot operation is 30 seconds, if the mold-maker's special XCS cooling system is used, or 35 seconds with standard cooling. The parts are removed and deposited on a conveyor belt by a WITTMANN W821 robot. In addition to high precision, the EcoPower also demonstrates its extreme energy- efficiency here with a more than 60% cut in energy consumption compared to a modern standard hydraulic machine.

On a MacroPower 650/5100 with servo drive, an intake duct for the automotive industry will be manufactured with a tandem mold supplied by Coko, Bad Salzuflen / Germany. Parts quality is ensured by SKZ online thermography. Any deviations in part dimensions caused by temperature or material fluctuations are compensated by closed-loop correction of the mold temperature.



MacroPower 650

Online thermography is a process developed in cooperation with the South German
Plastics Center SKZ Wurzburg, which is exclusively marketed and distributed by WITTMANN worldwide. This proves once more the "one-stop shop" competence of the WITTMANN group for machines, automation and temperature control. On the exhibit, a WITTMANN W843 linear robot presents the parts to the camera in several different positions immediately after demolding. The evaluation is displayed on a monitor, any deviations from the release status are visualized and calculated according to segments for the connected WITTMAN FLOWCON flow regulator. This ensures that any temperature adjustments that may be necessary are effected in real time.

Compact micro injection molding to perfection
The third machine model of the successful PowerSeries, the MicroPower, which has been specially designed for high-precision injection molding of nano and micro parts, will also be on display at the Fakuma. The production of a micro part on a MicroPower 15/10 will be shown. The parts are removed by an integrated W8VS2 WITTMANN SCARA robot and passed on to a camera integrated in the production cell and in the machine's control system for quality inspection. The parts are subsequently separated according to cavities and stacked in a stacking module. In addition to the robot, a WITTMANN material dryer, a temperature controller and a material feeding device are also integrated in the machine and the UNILOG B6 control system, to make up a complete production cell.



MicroPower 15/10

HM ServoPower with Insider automation, BFMOLD and surface inspection
The energy-saving fleet from WITTMANN BATTENFELD is completed with an HM ServoPower. This hydraulic machine with servo drive yields a reduction in energy consumption by more than 30% compared to a modern hydraulic standard machine, at a very favorable purchase price and with an average payback period of about two years. The machine also comes as an insider solution, which means that a WITTMANN robot for parts removal, a conveyor belt and peripheral equipment for both upstream and downstream processing steps are integrated in the machine frame.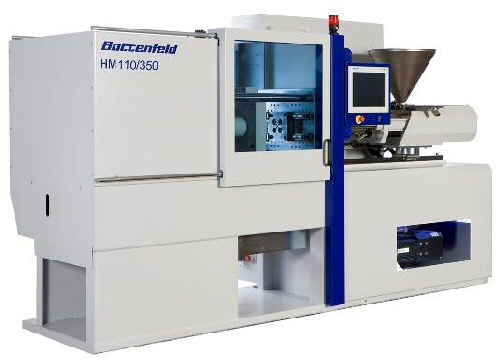 HM 110 ServoPower – the servo-hydraulic machine of the HM series

A front panel for a coffee machine will be manufactured on the HM 110/350 ServoPower Insider, using a single-cavity mold supplied by Wittner, Austria. This is a high-gloss visible part made of PC/ABS. The parts are produced by a vario- thermic process using BFMOLDTM technology. In this technology the entire space below the cavity is used for heating and cooling. This enables extremely even and, above all, quick cooling of the mold area. Therefore this technology is of interest not only in order to reduce cycle times, but also to prevent warpage and to reduce tension. Moreover, sink marks and joint lines can be prevented with the help of BFMOLD™ technology, above all on components with a visible surface or parts with a high-gloss surface.

The parts will be removed by a W818 WITTMANN robot, which will pass them on to a camera for surface inspection. The parts inspection system shown on this line provides a method to identify surface defects independent of human observation. This system developed by PCCL (Polymer Competence Center Leoben, Austria) takes photos of the part's surface and compares them with reference pictures. This system enables 100 % detection of surface defects independent of the presence of a human observer.

IML line from a single source
WITTMANN BATTENFELD's expertise in the packaging sector will be demon- strated by an IML application. Butter tubs with 125 g capacity and 0.35 mm wall thickness will be produced from PP in a 2-cavity mold. Insertion of the banderole label and removal of the finished parts will be carried out by a WITTMANN W827 robot, with a total cycle time of 2.8 seconds. The production unit is also equipped with a mold space dehydrator from Eisbär (Austria). A special feature of this application is the new, modular IML line with a high-performance drive package and an integrated CNC8 control system, which offers a number of advantages. The integration of the control system allows direct operation via the injection molding machine; intervention times are shortened substantially by the "smart removal function". So the intervention times are reduced even further by the integrated "smart removal function" supplied as standard. A remarkable characteristic of this application is that the WITTMANN group's principle of supplying everything from a single source not only includes the machine with peripheral equipment and automation, but also the process as such and the mold supplied by the group's own special mold-making facility.

A common feature of all machines is the UNILOG B6 control system, which offers a uniform control and operation concept for easy handling of the injection molding machines, including all integrated peripheral equipment. The control system, running under Windows XP®, greatly facilitates the integration of the machines in PDA systems, but above all in Internet-based service support systems. Web service and remote service systems, as well as the Battenfeld K4 production data acquisition system, are also available on all machines.

The exhibition program of WITTMANN BATTENFELD is rounded off by a presen- tation of its WebService 24/7, which was introduced at K 2010 and is now up and running around the world. WebService 24/7 stands for the online service from WITTMANN BATTENFELD, which is available round the clock on 7 days a week. Visitors to the Fakuma will have an opportunity to experience the operation of WebService 24/7 first-hand via a live connection at the service center specially installed for this purpose. This service center provides information to visitors about the other services offered by WITTMANN BATTENFELD as well, such as customer support, application technology, training, or the Battenfeld K4 production data acquisition system.


WITTMANN BATTENFELD
WITTMANN BATTENFELD, a company of the WITTMANN group based in Kottingbrunn, Austria is a leading manufacturer of injection molding machines for the plastics industry. With its own sales and service companies as well as repre- sentations in about 60 countries, WITTMANN BATTENFELD provides optimal support to its customers in all matters concerning injection molding technology. Its innovative strength, highest precision and strong focus on maximum customer benefit make WITTMANN BATTENFELD a valuable partner for its customers.


Visit us at the Fakuma. We would be pleased to meet you on our booth (hall B1, booth 1204).