Deutscher Text >>>

SIMPOE offers easy to use, easy to learn and affordable software solutions to simulate the plastic injection manufacturing process.

With the growing development of Collaborative Product Development, SIMPOE makes it possible for Product Designers, Mechanical Engineers, Mold Makers, Plastic Manufacturers to work with the same tools, to take into account the manufacturing constraints early in the design cycle, optimize mold, optimize material costs and drastically shorten time to market of new plastic products.


With SIMPOE software solutions, injection simulation is now accessible to everyone..



Plastic Injection Simulation available to anyone.
SIMPOE's mission is to make available to the global Engineering community plastic injection molding simulation solutions to allow drastic reduction in the costs of mold prototypes, optimize plastic material use and shorten time to markets of new products.

SIMPOE puts the greatest emphasis on its customers and their satisfaction, by offering the best ease of use, performance and affordability for its products.

The SIMPOE philosophy is "simple but powerful."


Easy to use, fast and affordable tools for Product Designers as well as Mold makers and Manufacturers.
By providing easy to use and affordable solutions for plastic injection simulation, SIMPOE allows the worldwide Engineering community of Mechanical Engineers to take into account manufacturing constraints early in the product design cycle, in a world where plastic parts are more and more part of everyday life, and where manufacturers are under increasing pressure to launch new products faster and cheaper.

The increasing use of simulation solutions in the Product Development Process is part of the more global development of Product Lifecycle Management tools, where R&D Engineers around the world are working on the same project, under increasing pressure to develop the right product, right from the first time, at the right price and at the right time. SIMPOE provides such tools, for plastic injected parts.

Thanks to their scalability and complete functionalities, SIMPOE software solutions address both the "experts", such as mold manufacturers or plastic parts producers, as well as the Mechanical Engineers designing plastic parts.


.

Solutions

►

SIMPOEWorks




►

SIMPOEMold




►

SIMPOEPro


►

SIMPOEdge


►

SIMPOE-Toolbox




►

CADdoctor




SIMPOEWorks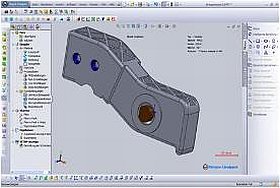 SimpoeWorks - The natural choice for SolidWorks users !

SimpoeWorks is the first complete plastic injection simulation solution fully embedded into the SolidWorks graphic user environment.

Thanks to SimpoeWorks, a SolidWorks Gold Partner product, SolidWorks users can now optimize the design and the tooling of their plastic parts, and minimize their manufacturing costs, without ever leaving their familiar everyday graphic user environment.

SimpoeWorks allow SolidWorks users to simulate the complete manufacturing process of their plastic parts, from filling to warpage.

With SimpoeWorks , SolidWorks users can identify early into the design stage potential manufacturing problems, study alternative solutions and directly assess the impact of such part or process modification, always in the SolidWorks graphic environment. The seamless integration of SimpoeWorks with SolidWorks really "closes the loop" of plastic part design and manufacturing optimization, whatever the complexity and geometry of such parts, shell parts as well as plain solid parts.

The SimpoeWorks software suite includes the following plug-in modules:

SimpoeWorks FILL, the base module, simulates part filling. SimpoeWorks FILL includes the powerfull pre- and post treatment functionalities developed by SIMPOE, as well as the built-in material library of a few thousands references, which can be also customized in a few mouse clicks. Thanks to SIMPOE' s advanced algorithms, SimpoeWorks automatically meshes the part in the blink of an eye. SimpoeWorks FILL results include visualization of the melt front, weld lines, air traps, temperature and pressure distributions, shear rate and constraints, clamping forces, etc...

SimpoeWorks PACK, which simulates the packing phase, residual constraints, sink marks locations, and will allow the user to optimize the part manufacturing cycle time.

SimpoeWorks COOL, for the simulation of thermal regulation during the injection process, allowing to define the optimum process time. Channels libraries can be defined in SolidWorks for a later use with SimpoeWorks.

SimpoeWorks WARP simulates part deformation after mould opening. Deformations can be visualized in either direction, or globally, and the effects of residual constraints as well as material shrinkage displayed separately. SimpoeWorks FILL also includes links to structural analysis, as well as export of the counter-deformed geometry, for mold design optimization.

SimpoeWorks softwares require a SolidWorks license to run.


SIMPOEMold




Simpoe-Mold - The stand-alone solution

Simpoe-Mold is the stand-alone plastic injection simulation solution developed by SIMPOE.

Thanks to Simpoe-Mold, all the players involved in the development and manu- facturing of plastic parts can now optimize the design and the tooling of their parts, and minimize their manufacturing costs, with user-friendly, fast, complete and affordable tools, accessible to everyone.

Simpoe-Mold simulates the complete manufacturing process of plastic injected parts, from filling to warpage.

Simpoe-Mold users, whether they are product designers, mold makers or part manufacturers, can identify early into the design stage potential manufacturing problems, study alternative solutions and directly assess the impact of such part modification,whatever the complexity and geometry of such parts, shell parts as well as plain solid parts.

The Simpoe-Mold software suite includes the following modules:

Simpoe-Mold FILL, the base module, simulates part filling.Simpoe-Mold FILL includes the powerfull pre- and post treatment functionalities developed by SIMPOE, as well as the built-in material library of a few thousands references, which can be also customized in a few mouse clicks. Thanks to SIMPOE' s advanced algorithms, Simpoe-Mold automatically meshes the part in the blink of an eye. Simpoe-Mold FILL results include visualization of the melt front, weld lines, air traps, temperature and pressure distributions, shear rate and constraints, clamping forces, etc.

Simpoe-Mold PACK, which simulates the packing phase, residual constraints and sink mark locations, and will allow the user to define the optimum manu- facturing cycle time.

Simpoe-Mold COOL, for the simulation of thermal regulation during the injection process., allowing to define the optimum process time. Channels libraries can be defined in Simpoe-Mold, or imported from the CAD system.

Simpoe-Mold WARP simulates part deformation after mould opening. Defor- mations can be visualized in either direction, or globally, and the effects of residual constraints as well as material shrinkage displayed separately. Simpoe-Mold WARP also includes links to structural analysis, as well as export of the counter- deformed geometry for mold design optimization

SimpoeLINK V5 is an additional module to read Catia V5 model files in their native format.




SIMPOEPro






SimpoePro - The natural choice for Pro/ENGINEER users !

SimpoePro is the first complete plastic injection simulation solution fully embed- ded into the Pro/ENGINEER graphic user environment.

Thanks to SimpoePro, a Gold PTC Advantage Software Partner product, Pro/ENGINEER users can now optimize the design and the tooling of their plastic parts, and minimize their manufacturing costs, without ever leaving their familiar everyday graphic user environment.

SimpoePro allow Pro/ENGINEER users to simulate the complete manufacturing process of their plastic parts, from filling to warpage.

With SimpoePro , Pro/ENGINEER users can identify early into the design stage potential manufacturing problems, study alternative solutions and directly assess the impact of such part or process modification, always in the Pro/ENGINEER graphic environment. The seamless integration of SimpoePro with Pro/ENGINEER really "closes the loop" of plastic part design and manufacturing optimization, whatever the complexity and geometry of such parts, shell parts as well as plain solid parts.

The SimpoePro software suite includes the following plug-in modules:

SimpoePro FILL, the base module, simulates part filling. SimpoePro FILL includes the powerfull pre- and post treatment functionalities developed by SIMPOE, as well as the built-in material library of a few thousands references, which can be also customized in a few mouse clicks. Thanks to SIMPOE' s advanced algorithms, SimpoePro automatically meshes the part in the blink of an eye. SimpoePro FILL results include visualization of the melt front, weld lines, air traps, temperature and pressure distributions, shear rate and constraints, clamping forces, etc...

SimpoePro PACK, which simulates the packing phase, residual constraints, sink marks locations, and will allow the user to optimize the part manufacturing cycle time.

SimpoePro COOL, for the simulation of thermal regulation during the injection process, allowing to define the optimum process time. Channels libraries can be defined in Pro/ENGINEER for a later use with SimpoePro.

SimpoePro WARP simulates part deformation after mould opening. Deformations can be visualized in either direction, or globally, and the effects of residual constraints as well as material shrinkage displayed separately. SimpoePro FILL also includes links to structural analysis, as well as export of the counter-deformed geometry, for mold design optimization.

SimpoePro softwares require a Pro/ENGINEER license to run.


SIMPOEdge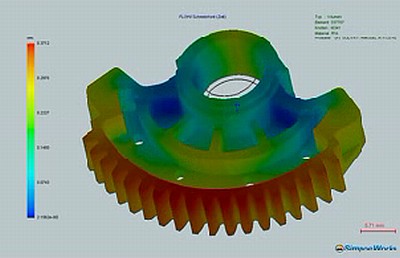 SimpoEdge - The natural choice for Solid Edge users !

SimpoEdge is the first complete plastic injection simulation solution fully embedded into the Solid Edge graphic user environment.

Thanks to SimpoEdge, a Siemens PLM Solution Partner product, Solid Edge users can now optimize the design and the tooling of their plastic parts, and minimize their manufacturing costs, without ever leaving their familiar everyday graphic user environment.

SimpoEdge allows Solid Edge users to simulate the complete manufacturing process of their plastic parts, from filling to warpage.

With SimpoEdge, Solid Edge users can identify early into the design stage potential manufacturing problems, study alternative solutions and directly assess the impact of such part or process modification, always in the Solid Edge graphic environment. The seamless integration of SimpoEdge with Solid Edge really "closes the loop" of plastic part design and manufacturing optimization, whatever the complexity and geometry of such parts, shell parts as well as plain solid parts.

The SimpoEdge software suite includes the following plug-in modules:

SimpoEdge FILL, the base module, simulates part filling. SimpoEdge FILL includes the powerfull pre- and post treatment functionalities developed by SIMPOE, as well as the built-in material library of a few thousands references, which can be also customized in a few mouse clicks. Thanks to SIMPOE' s advanced algorithms, SimpoEdge automatically meshes the part in the blink of an eye. SimpoEdge FILL results include visualization of the melt front, weld lines, air traps, temperature and pressure distributions, shear rate and constraints, clamping forces, etc...

SimpoEdge PACK, which simulates the packing phase, residual constraints, sink marks locations, and will allow the user to optimize the part manufacturing cycle time.

SimpoEdge COOL, for the simulation of thermal regulation during the injection process, allowing to define the optimum process time. Channels libraries can be defined in Solid Edge for a later use with SimpoEdge.

SimpoEdge WARP simulates part deformation after mould opening. Defor- mations can be visualized in either direction, or globally, and the effects of residual constraints as well as material shrinkage displayed separately. SimpoEdge FILL also includes links to structural analysis, as well as export of the counter-deformed geometry, for mold design optimization.

SimpoEdge softwares require a Solid Edge license to run.


Video

Visit us at the Fakuma 2011. We would be pleased to meet you on our booth (hall A7, booth 7309).