Deutscher Text >>>

Mold-Masters, the leading solutions provider of hot runner systems and controls technology, will present many new developments around the new co-injection technology IRIS and further product development for the packaging, medical and automotive industries at this year's Fakuma show.

In the first half of 2012, the company has introduced a large number of technical innovations and utilizes Fakuma as an opportunity to present new and further developments, as well as a wide range of recent sample applications. In addition, the booth, #5205 in hall A5, will also provide an outlook on future developments. The keywords for this year's presentation are precision, power, speed and process control. In addition to extensive improvements in hot runner technology around the Sprint high performance systems for caps and closures and the new valve gate technology, Accu-Valve MEX, the company will present a large portfolio of first-class temperature and process control systems. Furthermore, a new model of the E-Multi injection unit for multi-material molding on single-mateial machines will be presented. The new model will supplement the current E-Multi models for mid-size applications.

IRIS Co-Injection
The new IRIS co-injection system has created a lot of buzz in the industry and will receive special attention at this year's show. The innovative technology will be showcased for HDPE closures in a 16-cavity high-speed tool. The complete system consists of the Mold-Masters IRIS co-injection hot runner, an E-Multi injection unit, and a servo-electric E-Drive valve gate actuation system. The associated control unit is fully integrated and is located in a single, space-saving housing. This high-precision controller is measuring flow and pressure for both melt streams and controls the absolute accurate movement of the servo-actuated pins. The new co-injection technology allows for caps to have a directly co-injected EVOH barrier, which merely constitutes a proportion of 3-6% of the total cap. The co-injection process simplifies the production of the closure where a barrier layer is required and elimnates previously required multi piece assemblies. The result is a simple but 100% sealed cap, which can be used directly in the packaging process. The IRIS technology is ideal for use in beverage caps and closures, food containers, and medical applications.Wherever barrier layers are required to prevent leakage of oxygen and CO2, the IRIS system provides a comprehensive solution for process optimization and cost reduction. The IRIS co-injection technology is currently available for 32 or 48 cavity tools and possible applications are continually evolving. Examples of current applications and potential uses will be presented at Fakuma. One of the recent developments is a new E-Drive controller that allows for simultaneous control of up to four E-Drive systems. This drastically reduces the space requirements and technical resources that are required for actuation synchronization.



►

More information can be found

here.


E-Multi – precise, all electric, auxiliary injection unit
The E-Multi is a precise, fully electrical, servo-driven, and mold mounted injection unit for multi-color, or multi-component applications. The additional unit is the perfect choice for molders who are looking for an economic solution to their existing machines. The E-Multi unit provides mobility and flexibility, while pre- senting a cost and space-saving benefit.

Mold-Masters extends the patented E-Multi series and will introduce the new model at this year's Fakuma show. The new E-190 unit will integrate seamlessly into the existing series with its mid size and ability to be used for a variety of new applications. At the show, the technology will be presented in the context of packaging and medical devices, as well as consumer products. A comprehensive E-Multi system will be running in one of the halls to showscase its full capabilities. The material and part costs, as well as energy-saving potential, will be the central focus of this year's E-Multi presentation at Fakuma.




►

More information can be found here.


Melt-CUBE - the new standard for direct side gating
The new Melt-CUBE is an innovative linear hot runner system for direct side gating that allows for 20% higher cavity density than comparable circular systems. The patent pending system provides for a simple tip replacement directly on the machine, as well as for faster cycles and a high-quality gate. The Melt-CUBE fulfills all requirements for precise IML molding by using an additional temperature control zone directly at the gate. The system also offers an improved melt flow through the use of patented iFLOW manifold technology. Angled Melt-CUBE options are already in development. At Fakuma, numerous examples of the Melt-CUBE technology will be showcased.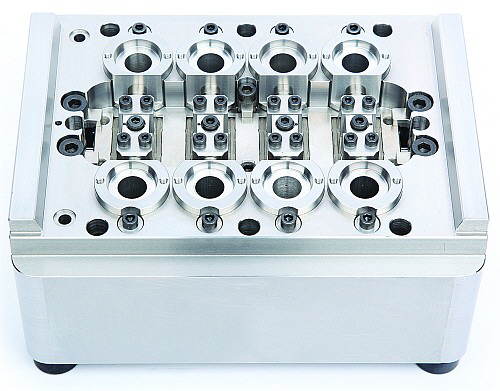 ►

More information can be found here.


TempMaster-Series – instrumentation, control, and automation
Mold-Masters continuallyexpands in the field of control and automation technology. Process optimization through the use of the most current controls technology will be a key theme at Fakuma in regards to controllers and the overall management of the injection molding process.

Experts from Mold-Masters' controls development group will showcase new- technologies, including the new sequential valve gate system, SVG, for precise control. Modern touch screen control technology for up to 48 zones will be demonstrated with the extended TempMaster M1 hot runner controllers. This user- friendly model of the TempMaster Series offers a unique design with the convenience of a tablet PC and, through its sophisticated operating concept, helps to maximize injection molding performance while ensuring the lowest operating costs. Also presented will be the latest generation of TempMaster M2 control units for 200 or more control zones and many other new technologies for temperature control and water flow management. A brand new, very compact temperature controller for 6-12 zones will also be presented to Fakuma visitors. In addition, a new 2-zone mini controller for hot-sprue applications will be on display





Velocity - the new hot runner delivery program
Mold-Masters is known globally for its successful implementation of very complex and highly technical applications. But the underlying technology also offers superior performance in smaller systems with less cavities. Within the new Velocity delivery program, Mold-Masters has setup a cost-effective alternative for efficient, technically advanced hot runner systems. With many standard configurations, Velocity offers rapid deployment of assembly drawings as well as system deliveries in the shortest time – all at the most competitive prices. The program also allows the hot runner to be equipped with a cost-effective TempMaster M1 controller. The greatest benefit when buying a Velocity hot runner system with a M-Series Temperature Controller is the comprehensive 10-year warranty that will be added automatically. This warranty, combined with the technically superior hot runner solution, is currently only offered by Mold-Masters.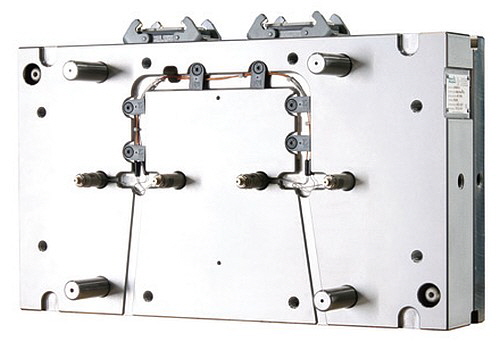 ►

More information can be found here.


Vision and Fusion - flexible hot runner systems for the automotive market and other large parts applications
Among the new products is also the Vision product line, designed specifically for use in the automotive industry. Technical features, such as special angled manifolds, quick connectors, easily replaceable heater plates, and an innovative water cooling system, are some of the outstanding features of this new system. With the Vision series, Mold-Masters offers a cost-effective standard hot runner system with a variety of very flexible manifold configurations. The system is therefore also applicable for applications in the area of ​​white goods and other large part molding. The technical design offers a variety of design options and scores simultaneously with time and cost savings for the end user. At the Fakuma show, a Vision system will be presented to showcase the high flexibility in design. The F7000, a new model to the Fusion G2 hot runner series, will be presented at Fakuma with the benefit of having even longer nozzles. A flanged version of the Fusion Series G2 is also being presented, which is designed specifically for use with shorter nozzle and large pitch dimensions.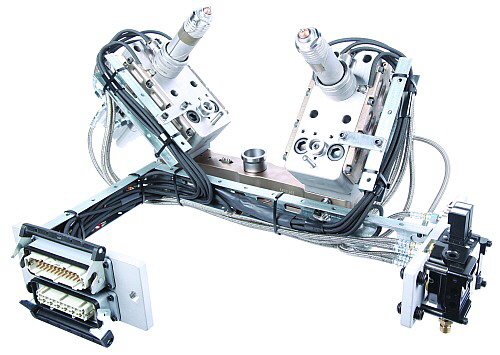 ►

More information can be found hier.


Global Engineering now led by European headquarters
The European head office in Baden-Baden, Germany has taken over as the global engineering headquarters. The technical management team based in Germany is now managing the global engineering offices in Canada, China, India and Germany, as well as more than 20 technical engineering, sales and service offices throughout Europe. As part of this change, a comprehensive product life cycle project (PDM/PLM) was launched, which transfers the global CAD/CAM standards into the next generation. The integrated parts of this project are the global CAE systems, and the entire field of rheology, as well as the associated customer services. At the time of Fakuma in October 2012, the European roll-out of this global project will kick-off and implement a lot of technological improvements and advantages in terms of product design and delivery. For customers, the implementation of this massive project will result in even faster drawing and data delivery and more comprehensive technical consulting and design services. In parallel to the enhancements in engineering, there are also significant investments being made for the European machinery in Baden-Baden. The focus is clearly on extending the hot half production lines and enlarging the Customer Service Center.


New corporate website
Mold-Masters has recently launched a redesigned and improved multilingual corporate website, focusing on reading fluency and meeting the needs of different customer groups. The new, clearly structured design is intuitive to use, but at the same time also very informative. Under www.moldmasters.com, the latest in- formation on Mold-Masters developments are always listed and up to date. The site now provides even faster access to the comprehensive product and service portfolio, as well as a rapidly growing knowledge base specific to the use of advanced hot runner technology.


About Mold-Masters
Mold-Masters Limited is the global leader in melt delivery and control systems. It designs and manufactures the plastic industry's most advanced hot runner sys- tems, temperature controllers and auxiliary equipment. Since 1963, Mold-Masters has invested heavily in research and development. With over 900 granted and pending patents, Mold-Masters has created many technology breakthroughs and enabled countless new ways of molding parts with hot runners. With manufacturing facilities in North America, South America, Europe, India and Asia, as well as sales and service support in 70 countries, Mold-Masters spans the globe with its capabilities.


Companyvideo

Visit us at the Fakuma. We would be pleased to meet you on our booth (hall A5, booth 5205).