Deutscher Text >>>

MADAG Printing Systems AG develops and sells hot stamping systems for the packaging, machinery and automotive industries.

Working in close cooperation with customers results in technically advanced systems that add value to their products.
MADAG Printing Systems AG is the market leader in the decoration and inscription of tubes and caps. Innovation produces systems that meet the highest demands for performance and quality
Shape, material and purpose are key factory when it comes to deciding which technique to use for decorating and inscribing a product. MADAG offers universal systems that can be enhanced with additional modules to suit every customer's exact needs.
Application of technical know-how is rooted in cooperation and partnership with ist customers and suppliers. Only by bringing together all this knowledge can achieve outstanding results.
MADAG systems are assembled and tested by a team that also provides every customer with complete after-sales support.

Products

Tubes
Tube decoration systems from MADAG Printing Systems AG meet the highest demands in terms of performance, positioning accuracy and hot stamping quality. The systems can be operated in-line or off-line with fully automatic robot loading. Heat transfer foil or labeling processes enhance the tubes even further.



TubeLiner-TPA3plus



Cosmetics
MADAG Printing Systems AG offers a range of systems for cosmetics packaging, including the decoration of mascara, sleeves, cans, plastic bottles and aerosol cans.




Closures
Long Cap closures are being used more and more for wines and spirits. MADAG Printing Systems AG provides high-performance machines for side and top hot stamping as well as top embossing - all in one operation - and all this in up to 4 colors.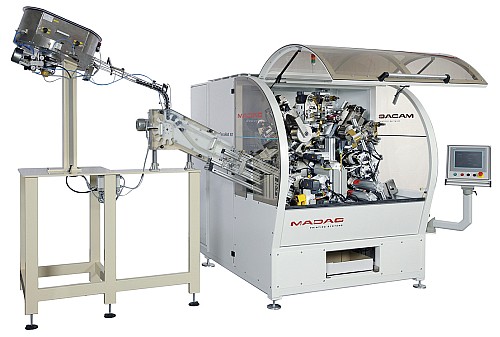 Glass
MADAG hot stamping systems for glass satisfy the increased demands of the decoration procedure.

Plastic
MADAG hot stamping systems allow inscriptions and decoration on plastics for all manner of industries - from small electronic parts, through to automotive accessories, household appliances and all the way to containers. The type of material, size and shape are key factors for deciding between stroke or roll-on hot stamping.

Food
Hot stamping systems for food packaging ensure high flexibility and durability. The varying forms and sizes of the items can be treated with hot stamping systems or heat transfer foil.


Download prospects
DecoMat-700
DecoPrint-H60 – H200
DecoPrint-P150
DecoPrint-P350
DecoPrint-P1000
DecoPrint-P2000
DecoRoll-AD
DecoRoll-AP
DecoRoll-CS+
DecoRoll-XD
DecoRoll-XL
DecoRoll-XM
DecoRoll-ZR
TPA3plus
TPAD
TPAEvolution
DecoRoll-XG80 / XG120


Image video

Visit us at the Fakuma. We would be pleased to meet you on our booth (hall A1, booth 1410).