Deutscher Text >>>

Whoever is looking for modern solutions regarding the cutting technology at this year's "K" in Düsseldorf, should schedule for a visit to the Getecha trade fair stand. In hall 9 the innovative plant construction company displays numerous exhibits from its current cutting mill range as well as selected process automation systems. An interesting address for extruders, thermoformers and injection moulders who would like to improve the efficiency of their production lines!

Plastics experts and production managers of the areas extrusion, thermoforming and injection moulding will find highly innovative solutions regarding cutting and recycling technology on this year's Getecha trade fair stand at the "K". The innovative plant construction company puts its technological emphasis on feeding machines for extrusion and thermoforming lines. Furthermore, in hall 9 (stand A21) several end table mills for injection moulding machines and feed extraction systems for the automation of injection moulding processes are displayed.



RS 3009-E

The feeding machine RS 3009-E which is specialised in the processing of foil marginal strips from extrusion and thermoforming is amongst the highlights of the Getecha trade fair stand. Its knurled rollers provide the best possible grip when drawing in foils and ensure a smooth process. In particular, however, the mill has an automatic speed regulator: via sensors at the bow control and a frequency inverter at the feed motor the feeding and line speeds are permanently harmoni- sed. This increases the productivity, as the "self-learning feed" makes any manual fine-tuning unnecessary.

At the "K" Getecha also presents its compact marginal strip feeding machine RS 2404-E as a space-saving cutting solution for extrusion. The sound insulated cutting mill may be positioned immediately next to the extrusion line and disposes of two separate feeding systems with variable feeding widths. It cuts marginal strips of foils and plates with thicknesses between 0.2 and 5 mm, whereby the two autonomous feeding systems may process strips of different thicknesses simultaneously. As each feeding channel is regulated with its own frequency inverter the speed of the marginal strips can also be controlled independently from one another. Thus, the cutting mill can be adjusted exactly to the production speed of the extrusion line and recycling. Also, an RS 2404, which is optimised for the processing of thin foils (from 10 µm), can be seen at the trade fair stand in hall 9. Here, via a blower the marginal strips are drawn through the Getecha foil cutter FS 200, are then pre-cut and transported into the mill for the post-cutting via a piping system and a cyclone.

Directly below the cooling zone of an extrusion line the Hacker GH 300 may be built in, which Getecha displays at the "K". Sheet marginal strips with thicknesses of up to 20 mm may be pre-cut, whereby the cutter can be adjusted thanks to variable lifting and adjusting units, changeable sheet widths and speeds. Via a conveyor belt the pre-cut marginal strips are then transported to a rotor-cutter RS 3004 for the post-cutting. To this end, Getecha demonstrates the cutting mill RS 4509, which disposes of a third stator knife for massive parts and which via a special funnel feeds both web and solid sheets to be cut.



GRS 300

At the "K" Getecha presents two solutions from its wide rotor-cutter range for the injection moulding technology: The small cutting mill RS 1615 is conceptualised for the use directly next to the injection moulding machine. It only requires little storage space, processes materials with some fibre optics and disposes of a suction nozzle to feed the milled materials back to the production. The compact side mill GRS 300 with the large feeding section, however, may also be operated as a central mill. It even cuts large volume injection or blow moulding parts (up to 1.5 l).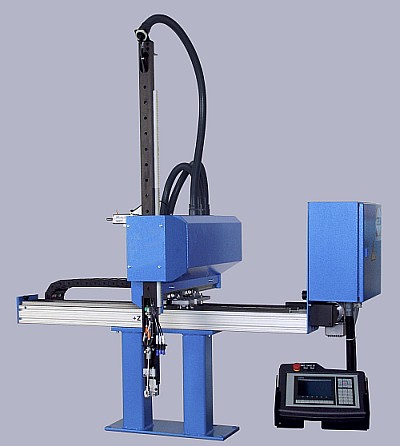 GL1-S

As examples for its numerous automation solutions Getecha demonstrates two of its extraction system for the injection moulding technology in Düsseldorf: The feed picker GRA 112 with its superimposed motion sequence by now is amongst the vintage speed machines in this area and is suitable for injection moulding machines of up to 3000 kN. The exhibited extraction system GL 1-S is custom-made for gripping feeds and small parts on small and medium-sized injection moulding machines. It communicates via a Euromap interface and with three independent servo pivots it works extremely repeat accurately even at high speeds.


Appetite for all things big - Large plastics granulators from Getecha are used worldwide
Granulation of particularly large-format or bulky plastic parts is the domain of central granulators of Getecha's RS 6000 and RS 8000 series. Integrated into the production logistics of plastics processing companies and equipped with a high level of automation, the powerful large granulators are continually setting new standards, and are used worldwide, often under difficult conditions.



Feeding from two sides: Getecha large granulator RS 6009 with additional bypass hopper for the direct docking to the production (picture: Getecha).

On injection moulding lines, in extrusion and in blow moulding technology in parti- cular, or wherever there is a need for fine granulation of large and bulky plastic stock outages or production scraps, the RS 6000 and RS 8000 series central granulators are a popular choice. Depending on the model and configuration, these large granulators chop and grind down not only scrap web rolls and plain sheets, but also entire fuel tanks and bumpers – or even hot, sticky flash directly from the blow moulding machine. Just a few weeks ago, Getecha supplied a large gra- nulator (model 8012) to Egypt for continuous granulation of strong PVC pipes with diameters of 630 mm, wall thicknesses of 35 mm and lengths of up to 6000 mm. The granulator was optimally matched to local requirements, and was set up on site, complete with a feed system, a bypass hopper and a suction unit for big bags.



Easy maintenance: The hopper of the Getecha large granulator RS 6009 can be opened hydraulically with the push of a button. This offers a fast and safe access to the cutting unit (picture: Getecha).

Bespoke and complete
This type of complete solution is typical of the service range offered by the Aschaf- fenburg-based plant construction company. Most RS 6000 or RS 8000 machines are not only adapted to the specific challenges of the granulate with various rotor variants, drive motors and wear protection packages, but are also matched individually to the relevant application by means of automatic feed and removal systems, as well as bespoke control technology, and are integrated into the user's production environment. As part of the production logistics of the plastics proces- sing company, a Getecha large granulator always ensures economical circuit control and recycling of the materials used.

With regard to technical adaptation and integration of the large granulators from a production logistics viewpoint, there are other interesting case examples: for the granulation of hot, viscous plastic parts with a temperature of up to 180°C from the blow moulding machine of an automotive supplier, Getecha produced a water- cooled version of the RS 6012 with a powerful extraction blower. The granulate is transported via a slow-moving, heat-resistant conveyor, and, after granulation, cooling and de-dusting, it is fed automatically into a silo. And for a US manufactu- rer, the Aschaffenburg-based company developed two RS 8012 large granulators with a conveyor and suction unit, 200-kW drives, an additional blower motor, integrated metal detectors and crash protection. These examples show that a large granulator solution from Getecha is, for the most part, a symbiosis of the modular design of the large granulators and the company's engineering expertise.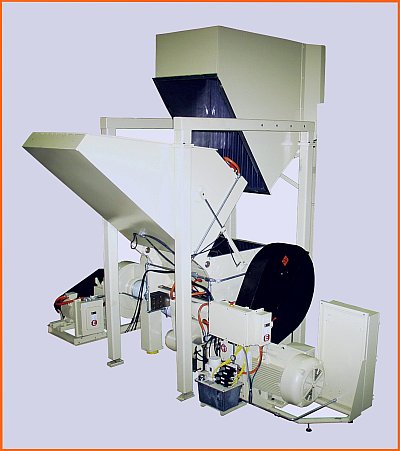 Getecha large granulator RS 8012 with opened hopper (picture: Getecha).

Robust and easy to maintain
What links all Getecha large granulators, aside from their ease of maintenance, is the high level of quality of their design. In principle, the four models of the RS 6000 series work with robust, smooth-running segment rotors (rotor segments can be replaced individually) with rotor cutting circles of 600 mm. Hopper openings range from 635 x 830 mm to 1525 x 830 mm. Standard hourly throughputs are 600 to 2500 kg. Both top large granulator models RS 8012 and RS 8015 have segmen- ted frame rotors with cutting circles of 800 mm and hopper openings of 1225 x 1175 mm to 1525 x 1175 mm. Here, the maximum hourly throughput is 3000 kg. All units can be equipped, as an additional option, with extremely effective noise abatement.



Optimal integration: Getecha delivers its large granulators complete with systems for feeding and discharge. Here a RS 8012 can be seen with a conveying system (picture: Getecha).


Visit us at the K exhibition. We would be pleased to meet you on our booth(hall 9, booth A21).